Annie and I discussed sharing two of our previous trips that had a strong impact on us wanting to live this lifestyle. This is the story of our 2014 whirlwind trip which features New Mexico, Colorado, Utah, and Arizona. We hope you enjoy the photos and story; prepare some time for reading, it's a long one!
Day 1
Once a year Dillard's requires an extensive inventory of it's products in stores across the entire United States. Those who audit the inventory are volunteers from within the departments across Dillard's. When I opened the signup sheet and noticed Farmington, New Mexico was one of the locations I immediately volunteered for my first ever store inventory.
I had actually been to Farmington two years previous on a whirlwind trip to photograph the annular solar eclipse over the Rio Puerco Valley in New Mexico. So, when I noticed Farmington on the list, I immediately jumped on it.
Taking inventory is an overnight process that involves a whole lot of counting, "tombstones", and 5 hour energy drinks. It was fairly miserable, because I had already been awake 17 hours. It wouldn't have been so bad had there been a direct flight to Farmington that didn't take you to Timbuktu and back. In order to arrive on time, we flew into Albuquerque and drove a rental car the rest of the 3 hours. If our flight had arrived on time, we would have made it into Farmington around 3 in the afternoon. With our luck however, we had a delayed flight in Little Rock which set us back 3 hours. So instead, we arrived around 6 or so that evening with little time to sleep and prepare for the long night ahead.
That ended up not being too bad however, because on the way we passed this great view over Bloomfield, New Mexico; arriving at the perfect time to catch the sunset light over a the San Juan River valley with Silver Mountain off in the distance. The scene was beautiful.
The crazy thing about this image is how large the mountains in the distance look. Silver Mountain is over 50 miles away! It's incredible the scenes out there. As you're driving you can see the mountains waaay off in the distance and they already look huge from so far away. However, as you keep driving they just gradually get bigger, and bigger, and bigger. It's a neat effect and one you don't see here in Arkansas with our gradually rolling hills.
Day 2
After a long night of inventory, I went back to the hotel room and caught some much needed ZZZ's before a long day ahead. Annie and I tend to come up with an idea of places we would like to visit before going on one of our adventures, but we never destroy our sense of adventure with an unnecessary itinerary. The plan that day was to eventually make it to Monument Valley and who knew what else along the way.
As you're leaving Farmington, New Mexico, it's hard to miss Shiprock's pinnacle piercing it's way towards the sky. I had been to Shiprock during that whirlwind trip I talked about previously. It is quite the spectacle and a sight to behold. You are made to feel quite small standing at it's base, craning your neck to see the top. It's hard to fathom the immense enormity of Shiprock, even whilst standing in it's shadow. Needless to say, we were making the side-trip to see it. I wanted Annie to share in my amazement of this natural wonder, so we took a couple of hours out of the day to make the offroad journey to it's base. Annie and I explored Shiprock for about an hour before returning back to the road and our destination for the day, Monument Valley.
As we were headed towards Monument Valley we decided to make yet another side-trip to a well known location, The Four Corners. This particular spot is popular because it's the only place in the United States where four states all meet at one point. I wouldn't say this was a highlight of the trip, but Annie and I did get to spend some time talking with some of the Navajo from the area who were selling their crafts. They were very interesting people to speak with and we even ended up purchasing a few trinkets to commemorate the trip. One of the men made arrows out of Obsidian which was very fascinating to me and Annie ended up purchasing a traditionally made vase with very intricate etchings and ink work which we have used to decorate a shelf in our home.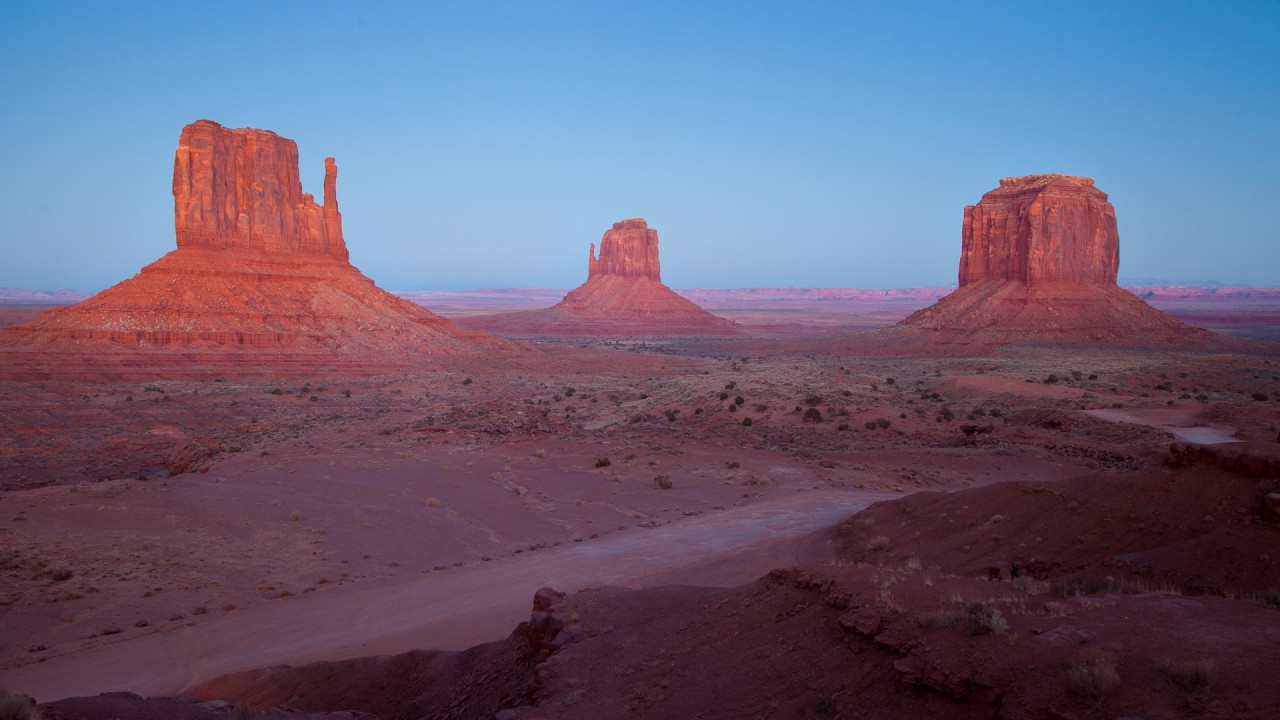 The high point of the day was, of course, driving into Monument Valley. You can easily do a google search and see incredibly iconic photographs of this amazing valley, but being there standing in the shadows of the monuments yourself is an awe inspiring experience that you have to do at least once in your lifetime. It is truly incredible. Annie and I spent at least 6 hours here taking in all the scenery. We made the long drive around the Rain God Mesa, stopped at Artist's Point, and finally ended the day at John Wayne/Ford's Point and shot the earth's shadow moving into the sky after sunset. As we were waiting on sunset a beautiful team of wild mustangs grazing the valley wondered up to us. They came within 20ft of me and I captured a few photos of them. They were such rugged and beautiful animals.
After photographing the crepuscular sky over Monument Valley, we went and enjoyed a traditional Navajo meal at the View Restaurant. Which, by the way, has an amazing view of Monument Valley! The night sky there is incredible, and I wish we had all the time in the world to spend there to photograph the area. Alas, we were on a mission to see Zion National Park, and on the way, made a pit stop in Paige, Arizona to get some much needed sleep after a long day of exploration of the Wild Wild West.
Day 3
After a quick overnighter in Page, Arizona, Annie and I were off yet again on another day chock full of adventure. To start we visited a place not far at all from Page, Horseshoe Bend. We arrived just in time for the sun to erupt over the rim of the canyon so my photos from there were fairly lackluster. Especially considering some of the grand photographs of the area. It's incredibly popular after all, I believe there were around 30 other people there at the time we were.
We enjoyed the morning light on the canyon and watched a "small" boat make its way around the horseshoe bend and then we were off; our destination was Zion National Park. The plan today was to take a detour down Cottonwood Canyon Road, which goes through the Grand Staircase-Escalante National Monument, then right by Kodachrome Basin, and finally puts you in easy access to Bryce National Park. Three epic locations for amazing exploration and photography.
Luckily for us, upon arriving at Cottonwood Canyon Road we were greeted by a "Road Closed" sign. I say lucky, because that means we literally had the entire route to ourselves! I'm not one to follow passive aggressive authority, so we quickly made our way around the sign and continued on one of the coolest off-road drives I've ever been on. Cottonwood Canyon Road is a barely maintained dirt road which follows Cottonwood Creek through the Escalante National Monument and traverses one of the coolest mountain formations I've ever seen: the Cockscomb. It had many interesting sights along the way, and being the only two individuals out there made it all that more exciting. We stopped halfway through the drive at one of the canyons along the way and hiked back into it a bit. Seeing as it was late January, there was still a lot of snow left on the ground where the sun never touches in the canyons. It was neat to see desert terrain with random bits of snow.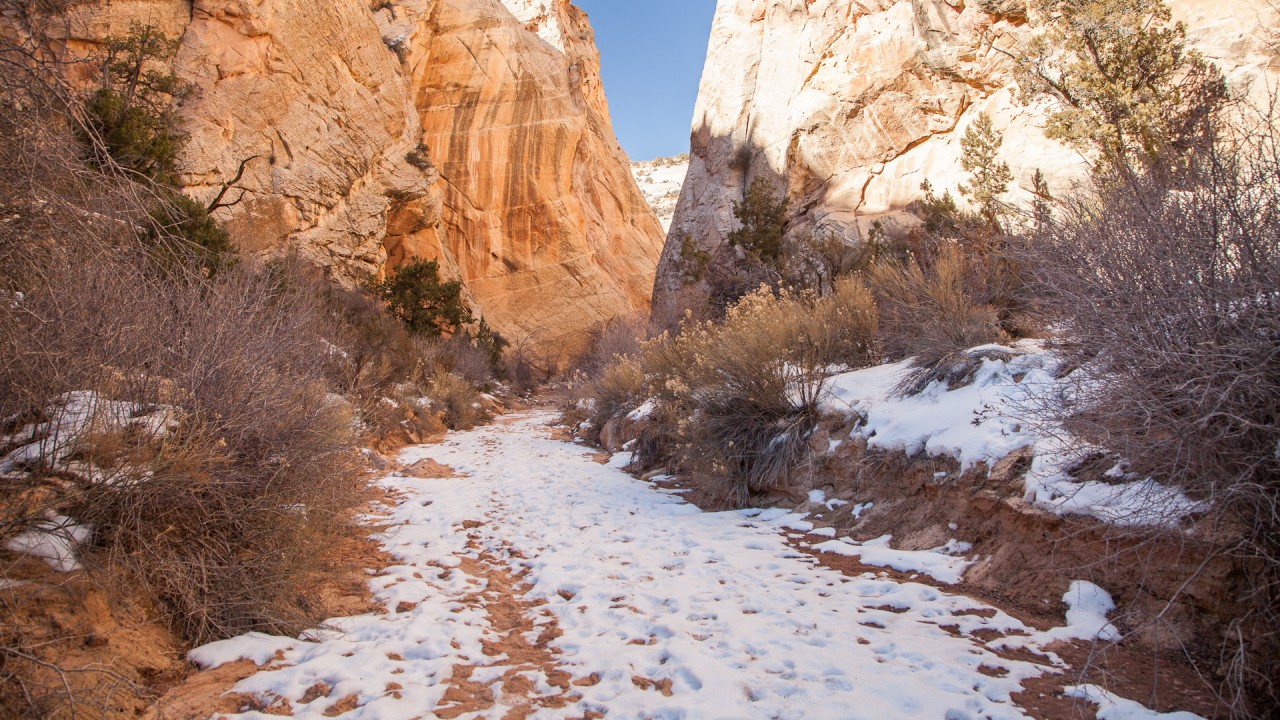 After our journey down Cottonwood Canyon road we made our way by Bryce National Park, enjoyed the views from the road, then continued to our final destination for the day: the East Mesa Trail just outside of the east side of the park at Zion. We would have loved to explore Kodachrome and Bryce more, but our plan for the day involved us hiking a 3.5 mile trail to the top of Observation Point overlooking Zion.
I'm one for solitude and after reading Joe Braun's description of this hike, I knew that Annie and I would have a very high chance of being the only two people at this specific location. It's a 7 mile hike after a treacherous 4wd only trail to even get to the trailhead, and the other trail which meets up with the observation point trail requires an elevation climb of nearly 2,500ft! I've done my fair share of 1,000ft climbs here in Arkansas, but couldn't imagine climbing that much elevation, especially at the altitude we were already at. Us Arkansas folk are used to 0-1000ft above sea level, not 4000+ which is typical of Zion. Needless to say, we were the only ones there, and it was spectacular being able to enjoy this view all to ourselves.
We sat there for nearly 2 hours waiting for sunset to brew and it turned out to be fairly decent. While waiting we enjoyed a shouting match with nearby hikers out on Angel Wing (the peak mid-center and middle of the valley). They are actually in this photograph, but are impossible to see on any screen without zooming in! The scale of this place is inspiring, look carefully on the road lower left and you can see cars as they weave their way through the canyon, majestic hardly describes it. We thoroughly enjoyed the experience, however enjoying sunset at this location meant hiking out in the dark! 3.5 miles in the dark in mountain lion, wolf, and bear country isn't for the faint of heart! We started our hike back just after the sun had set over the rim of the canyon and shortly after this photograph was taken.
It got dark fast.
About 30 minutes into the hike back and still a mile and a half to go, I held up my head to look further down the trail and my eyes met with those of an animal enveloped in pitch black. The shining gaze pierced through my soul, my heart dropped, and my stomach jumped. Annie was around 30ft behind me and I waved her back. I was preparing myself for what I could only imagine would be a fight to the death with a hungry wolf or worse, a mountain lion. I hoisted my 20lb tripod off my back and grasped it in my right hand, whilst staring at those eyes which brightly reflected the light from my headlamp. I gathered the courage to walk forward, knowing it was the only way. After a few more steps, a few menacing bellows from my lungs, and an unwavering creature of the night. I finally was close enough to make out that there was a very dumbfounded mule deer! I can only imagine what this deer was thinking, two lights bobbing through the night, and then some scary sounding yelling; I imagine he was just as scared as I was. I shouted back at Annie, "it's just a deer," and we made our way around them and continued our hike. Luckily, they didn't want to bother us, and we were fine leaving them be, so we went our separate ways and now both have stories to tell of our encounter with strange creatures in the middle of the night. I always tell people that my tripod could kill a bear, but so far I've luckily never had to use it.
I am absolutely thankful that it was just a deer, much deadlier creatures roam the plateaus around Zion and the forest we were in harbored both bears and mountain lions, as evidenced from the tracks and droppings. In hindsight, I would highly recommend carrying a firearm into this location (if legal)! After all was said and done, and we were back to the vehicle, Annie and I had a good laugh at how worried we were about a bunch of deer. The 7 mile hike was incredible and neither or us will ever forget it.
If you want to visit Observation Point yourself and are looking for directions to this spectacular location, I used the wonderful photographer, Joe Braun's, detailed directions which can be found on his website at: http://www.citrusmilo.com/zionguide/eastmesatrail.cfm. I highly recommend this hike, standing above Zion National Park and witnessing the scale for yourself is incredible.
It really places your life into perspective.
Day 4
After an early morning hike to the entrance of the narrows of Zion we headed back out of the park as droves and droves of vehicles lined up to get in. It was Martin Luther King day the Monday we were there and the government had declared all National Parks free for the day. Needless to say, the locals were driving in from hundreds of miles away to enjoy themselves at Zion. I don't blame them, the place is incredible.
Our mission for today was to make some kind of progress towards the Grand Canyon. On the way towards our destination we learned about the Coral Pink Sand Dunes and decided to make a short side journey out to see them. Upon arrival we were greeted with the sound of dune buggies zipping their way across the dunes. Apparently, they opened the dunes to recreational vehicles. I would love to drive one of them across the dunes at high speed, it looked like a lot of fun. After watching the buggies speed around the dunes we made our way back to the ranger station at the entrance to look for a map. Unfortunately, the ranger didn't have one, but he did have a really cool collection of sand from throughout the world.
One thing that Annie and I wanted to do while we were out west was see one of the many slot canyons in the area. At the ranger station I asked the ranger about any slot canyons nearby and he dropped a hint about one not too far away known as Red Canyon. Of course, you can't find much info online about this one, easily anyways. It's relatively unknown, except to locals who use the area for off-roading and camping. Perfect. We made our way there and after a 2 mile drive through very deep sand made it to the mouth of the canyon, just as a group of quads were leaving. We had the place to ourselves, yes!
We explored the canyon for about an hour and as soon as I turned the key on the Xterra, a group of motorbikes showed up. We couldn't have had better timing. Having a slot canyon to yourself out west isn't an easy feat, but we managed to do so on two separate occasions. After our quick hike into and out of Red Canyon we made our way back to a reserved hotel room in Kanab and ate some amazing calzones at a local pizza joint before crashing for the night. Considering we were utterly amazed at the beauty of Red Canyon, that evening we searched out another canyon in the area, Buckskin Gulch.
Buckskin Gulch is the deepest and longest slot canyon in the world. It is also easily within driving distance of where we were staying in Kanab. So, of course, we had to explore it! Buckskin Gulch shares the same trail-head as the much more known Coyote Buttes hike, the Wave. That was also bonus for us, because it meant the majority of the people hiking that day were going to the wave. Which, yet again, meant we had this amazing place all to ourselves. We arrived fairly early in the morning and were greeted with stunning light reflecting off the walls of Wire Pass, where this photograph was captured. Wire Pass connects the trail to Buckskin Gulch where they meet at a single confluence within a huge cavernous room with petroglyphs all over the walls. It was truly an incredible place.
Our last destination was the Grand Canyon and while I did capture some photographs there, none of them do the majesty of the canyon justice. People spend their entire lives photographing the Grand Canyon and fall short of producing anything worthy of showing how amazing of a place it is. It truly is one of those locations you just have to experience for yourself. If you haven't been there you are missing out on an amazing feeling. Standing atop the Grand Canyon really puts life and the history of the earth into perspective.
We hope you truly enjoyed this series of photographs and the story we experienced on our trip out west!