Zack and I took our first trip together to Montana in June 2013. We were going to visit a friend and explore a state that neither of us had been to. I don't think we realized it at the time, but some of the best times were when we were traveling without a plan. We did what we wanted. We stopped when something piqued our interest. And we left when there were too many people. And this was the result:
Oh hai. 
The Beartooth Highway & Yellowstone National Park
Zack and I flew into Billings, MT to meet up with a friend. The first stop was to be Yellowstone, via the Beartooth Highway. We were in no hurry and I was traveling with two photographers so the plan was to take a few hours to make the drive, stopping along the way to photograph all the beautiful things. What was supposed to be a 4.5 hour drive took us more like 8 hours. There were so many beautiful things everywhere and we had to stop with the notion of "Well, when will we be back here." The drive was incredibly beautiful and I highly recommend it to anyone. It does close in the winter and we were worried about road conditions but they were all clear!
Pretty mountains
Waterfall literally next to the highway
It seemed like every mile we drove, there was interesting to stop and admire. And, I think we might have based on how long it took us to get there.
Once we hit Red Lodge, we drove through a bunch of switchbacks up the Beartooth mountains. There were incredible views the further we drove up the mountain along with a lookout,with a lot of chipmunks. They like popcorn, just in case you ever stop there. Throughout the whole drive, it was crazy to me the amount of things that were just off the road. There was a massive waterfall, a few lakes, mountainous views, and a whole lot more. And we stopped to take every bit of it in.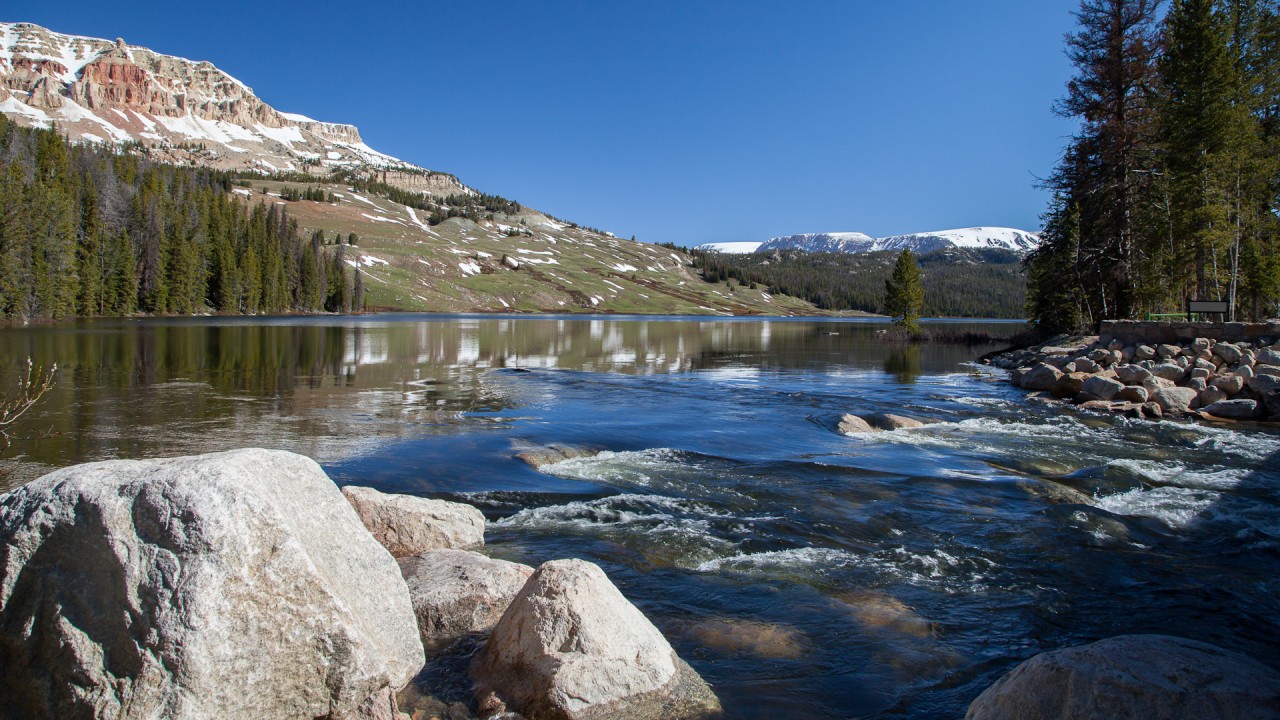 Long Lake.
At some point, we actually made it to Yellowstone and I have a confession to make. This was my least favorite part of the trip.  Least favorite is not bad though. The whole trip was great and Yellowstone was beautiful and there are some really cool things there. It is amazing how many different kinds of things you can see in one park. For me though, a lot of the appeal was taken away with the crowds that are there. Everywhere you go, you are with a mob of people trying to look at something. Driving through, you are stuck in a caravan of cars. Zack and I like to stick to the forgotten roads and lesser known places. It is easier to take in the beauty of a place when you don't have people pushing you to get a better view and someone holding up an iPad in front of you. Apparently there are A LOT of people that use an iPad as a camera.
Obligatory photo in front of the park sign. It's crooked because the camera was sitting on a car. Deal with it.
We did all the touristy things. We saw Old Faithful and the sulfur springs, which were smelly and equally pretty cool. We saw a lot of animals. Mostly Bison. A lot of Bison. The best being a bear and baby cubs!! We also made a stop at the Upper and Lower falls. They are massive and incredible. We camped in Yellowstone for one night and then headed out for our next destination.
Looking downstream from Lower Yellowstone Falls.  That's also a rainbow… but what does it mean?
Glacier National Park
We had to drop our friend off in Billings, then we started taking the back roads up to Glacier. I can't tell you the exact route we took, but it was pretty. And we did more of the same as before, stopping to enjoy the area. One of the more memorable stops was at the Holland Falls Trail. We stumbled upon this trail unexpectedly and the fact that it was only 1.6 miles and had the word Falls in it, we went for it. If you don't know Zack, waterfalls are his thing. This was one of the best things we happened upon and a good break from all the driving.
Holland Falls Trail
We were not disappointed once we made it. The trail follows the lake and at one point we were right at the edge and could look out and see the waterfall. We were far away and it was small, but that only spoke to how big we knew it would be when we got there. Once we made it to the waterfall, we stood next to it in awe. Then we turned around and were completely surprised to find an amazing view of Holland Lake. We took in the views for a while, hiked back to the car, and hit the road towards Glacier.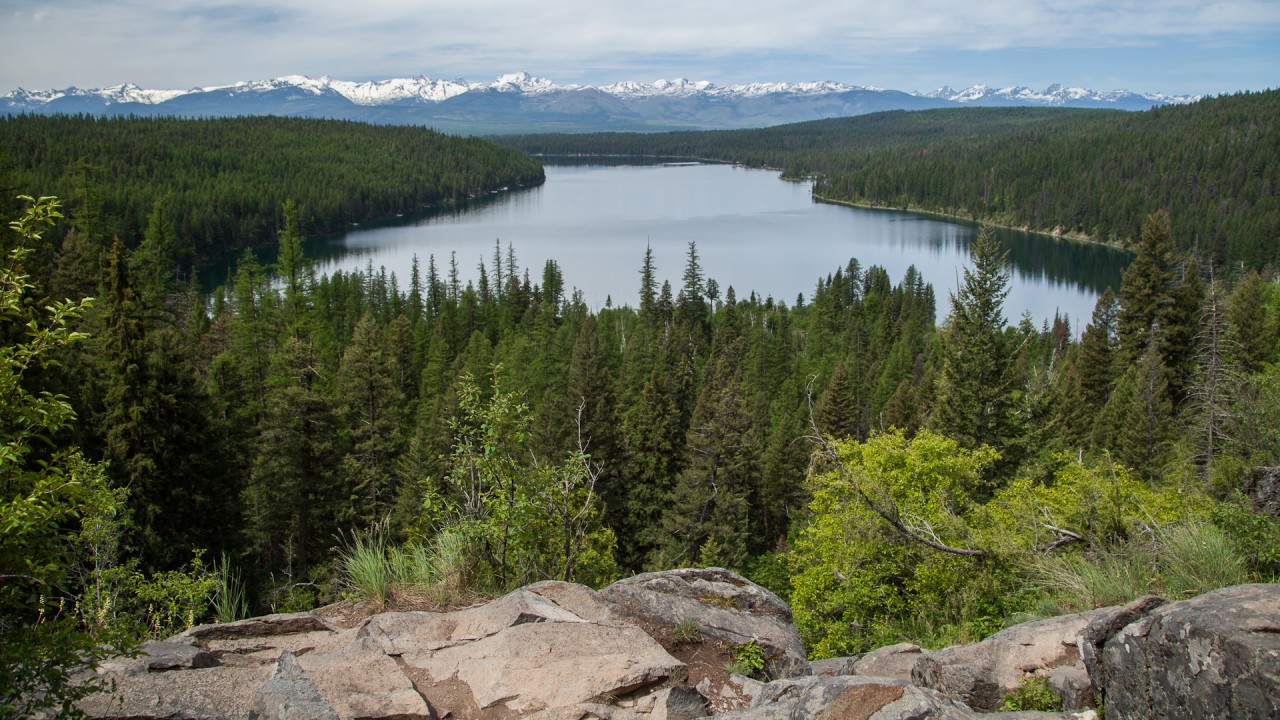 Holland Lake
Glacier was the last destination from this trip. Our goal was to drive all of the Going to the Sun road, however in early June, it had not completely opened up. We went to the west side of Glacier first, going to the furthest point we could, Avalanche Trail. The trail winds you through the trees and forestry and then it opens up into the lake with waterfalls on the far end. We hiked this later in the afternoon and there weren't as many people around, but it is definitely a popular spot in the park.
Avalanche Lake Trail
After the hike, we were headed out of the park to go to the west side, and we stopped at Lake McDonald. The weather was constantly changing, so we pulled over during a light rain to take in the view.
Lake McDonald
The next day we headed over to the east side and found a place to set up camp. The goal was to hike Grinnell Glacier Trail but my knees were hurting and swollen, so I was out. But this was at the top of Zack's to do list, and while he hesitated about going, I made him. I stayed back and hung out at the campsite, while Zack ventured off into the wilderness on his own, with bear spray of course.
Angel Wing over a crystal clear glacial melt lake
So before Zack left, he told me the length of the trail and how long he thought it would take. So I waited until that time and slightly later, then I began to quietly panic. I don't remember what time he left or how long it took him, but it was over what he predicted. He had gone by himself into bear country and we had no way to contact each other. Takes you back to days before you had cellphones. Don't worry, he eventually came back, bear attack free. I don't regret not going, because I couldn't physically. But I WISH I could have gone after Zack made it back with this story and incredible photo.
"I headed for the trail head next to Swiftcurrent Lake. Upon arrival, I noticed a couple of men and a woman preparing for a hike. After striking up a conversation with them and realizing they were actually heading the exact same way that I was, it was decided that we would all hike together. It was also decided that I would be dubbed "Arkansas" for the remainder of the trip. I was ok with that, safety in numbers, especially in bear country, is a good thing.

So, off we went, on the greatest trail I have ever had the opportunity to hike, the Grinnell Glacier Trail.

We hiked three miles alongside Lake Jospehine and climbed elevation of more than 1000ft until we finally reached the location that I captured this photograph from. At this point we were high up on the side of Grinnell Mountain overlooking one of the most beautiful valleys I've ever seen. With Angel Wing in the background, the whole scale of the place just dwarfed this half mile crystal clear glacial melt lake. We had planned to continue hiking, but snow covered the trail and we had lost it in the snow drifts. Instead, we hiked straight up the mountain for a ways until we made it to a small outcropping on which we could sit and relax and take it all in.

After sitting and chatting for a while, we heard something walking up behind us. Turning around we were greeted by 4 big horn rams who were also enjoying the scenery. The alpha, which you could tell by the size of his huge horns, stood high up on a rock eyeing us for a good 5 minutes. It was a bit uncomfortable, but after a while I guess he decided we were ok. Because, he turned and went back to his pack about 200ft away from us and sat down and enjoyed a nice patch of green grass while we sat there in awe. They are incredible creatures, but being able to see them that close was an amazing experience that I wouldn't have enjoyed had I not decided to hike in."
Little did I know, he was safe all along. We will definitely be going back to Glacier, as it is now one of my favorite places. And when we do, I will make it a point to hike the Grinnell Glacier Trail. I am also excited to see it's northern/Canadian side as well, Banff National Park.
The beauty we saw on this trip was unreal. It is hard to put into words, and while Zack's pictures do a pretty great job, there is nothing like seeing it in person.