The whole reason for this trip, making our way from Arkansas down to Florida, was because Zack entered our bus to be shown in the 2016 Florida Tiny House Festival. It gave us a deadline to get everything done and we thought it would be a fair sized trip in between our jaunts around the state and our full fledged trip out West. And really, we thought it would be a fun and a cool new experience. Here is the post on the first part of the trip.
So, after leaving Tannehill State Park, we headed to Atlanta to spend the day. Zack and I have some old and new friends that live there. It was also Zack's birthday, so we needed to celebrate. We got there early afternoon and so before we met up with our friends, we did some "chores". We made the usual trip to Home Depot and then went to get some groceries. The great thing about a big city, such as Atlanta, is you can usually find a shopping center with stores containing everything you need. When we got there, we parked in one spot and walked to almost everything. We had some good soul food at Eats and with an hour to spare headed over to the Ponce City Market. It is the same concept as the River Market in Little Rock but the PCM is like its waayy cooler, hipster cousin.

The jerk chicken at Eats is the way to go.
Before dinner, we headed to meet our new friends James & Jen. Zack met them through a skoolie conversion group. They will be using their bus more for recreation and for when they need to travel for work. We took our first(!) Uber ride to their house and then back where the bus was, showing off our respective buses.
We met up with some more friends for dinner at Vortex before calling it a night. Atlanta doesn't allow overnight parking and we didn't want to have to drive through Atlanta in morning rush hour so we drove for about an hour and boon-docked at Rum Creek Wildlife Management Area. It was nice because it was right off the road, but still secluded, and only one other person was there.
View of a coal plant from our boondocking spot
The next day, we hit the road early to arrive in Elkton, FL, the location of the festival. We just hung around the state fairgrounds on Thursday, meeting other tiny home owners and trying to get a feel for what the next few days would be like. On Friday, the madness began. Friday morning was free to school kids. It was neat to see kids so interested in living this lifestyle. At least one school in the area was doing a project on tiny homes. We talked to a few kids that were tasked with making blueprints and building a model tiny home. Zack used SketchUp when designing our home so he showed them our SketchUp renderings, which is the same application they were using. I wish we had a class like that when I was in High School!
Message to the kiddos
Friday evening was the free night. I have never seen so many people crammed into a bus at once. Zack and I didn't make people take their shoes off before entering the bus on Friday and Saturday when I woke up, I strongly regretted that decision. I'm still not sure how mud got into all the places it did. The rest of the weekend was a shoes off policy!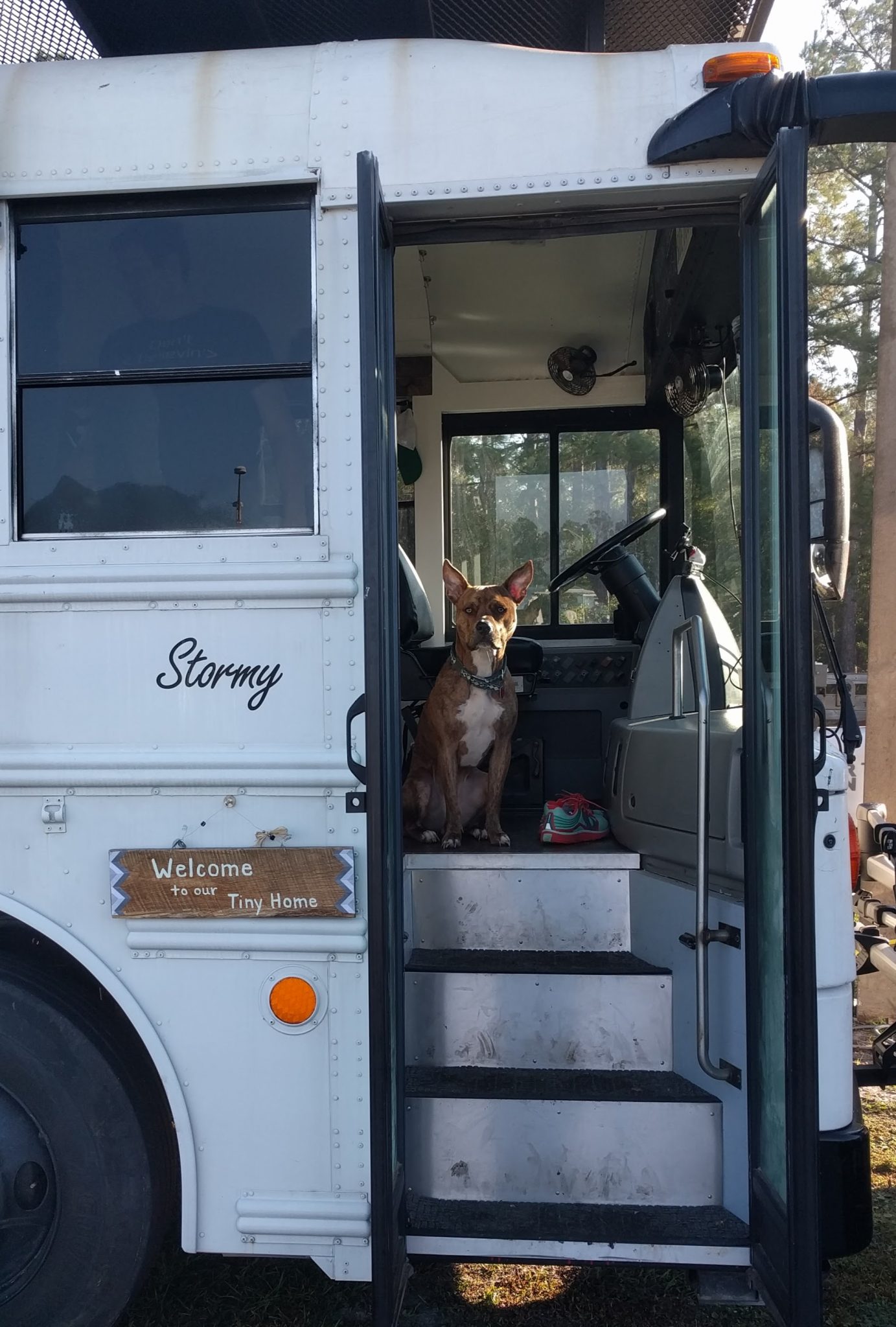 Guard dog
Saturday and Sunday there was a steady stream of people, throughout the day. It got really tiring answering the same questions over and over…and over, but Zack and I had a good time. We got a lot of good feedback from the trip. Everyone loved the bathroom and the built in dog kennel for Lola. I think most people were surprised at how a school bus can be transformed and how cost effective they can be. As with the meet up in we went to in Texas, the best part of the trip were the people we met and the friendships we hope to continue while traveling. We ended up winning a 'Best Bus Conversion' award, which we didn't even know there was a contest!
Awesome award we won
The festival was expected to draw around 10,000. The unofficial total was 60,000. It added to the craziness of everything going on, but everything was worth it for the experience. To say Lola was over all the people in our bus and having to be on a leash all the time is an understatement.
Lola being "over it"
If you are interested in living in a tiny home at all, I highly recommend going to this. There were 90 tiny homes there, with many different types, besides the typical tiny home on a trailer.
BethAnn & Bryan's bus. Awesome people with an awesome bus that we plan to keep in touch with them and meet up again
A Titan Tiny Home
He has the right idea, showing off his home. Next time we need two recliners at the front of the bus
Some vintage tiny homes
And if you are interested in tiny homes, you are in luck. In March, the same people are holding another Tiny House Festival in Georgia. I'm sure it is going to be even bigger and better than this one. Annd, James and Jen are planning to be there with Eldon, the Bus.
We left Elkton late sunday because there was no way we were driving from AR to FL and not going to see the beach.  We got one of the last few spots at Anastasia State Park in St. Augustine, which is right on the beach. While we didn't stay at the spot very long, which is unfortunate because it was soo pretty but also a little pricey, we woke up in the morning to a decent spot. While I slept in a bit, Zack headed to the beach to catch the sunrise. Then we hit the road, taking a more scenic route home, trying to make it in time to spend the holidays with our families.