Despite our lack of social media presence, we have been doing a lot this past month. And it has been nice to be settled in one spot for a while. We don't have to wonder how long we can go before we need water and figure out, where we can fill our tanks, and I don't have to drive 30 minutes to find a laundromat. 😀
The views aren't too bad either
This month I started a work-camping job just outside of Yellowstone. I work four days a week, with three in a row off, which has been great for getting out and exploring the area. When we first arrived we went on a few drives to get familiar with the area.
Somewhere along Tom Miner Road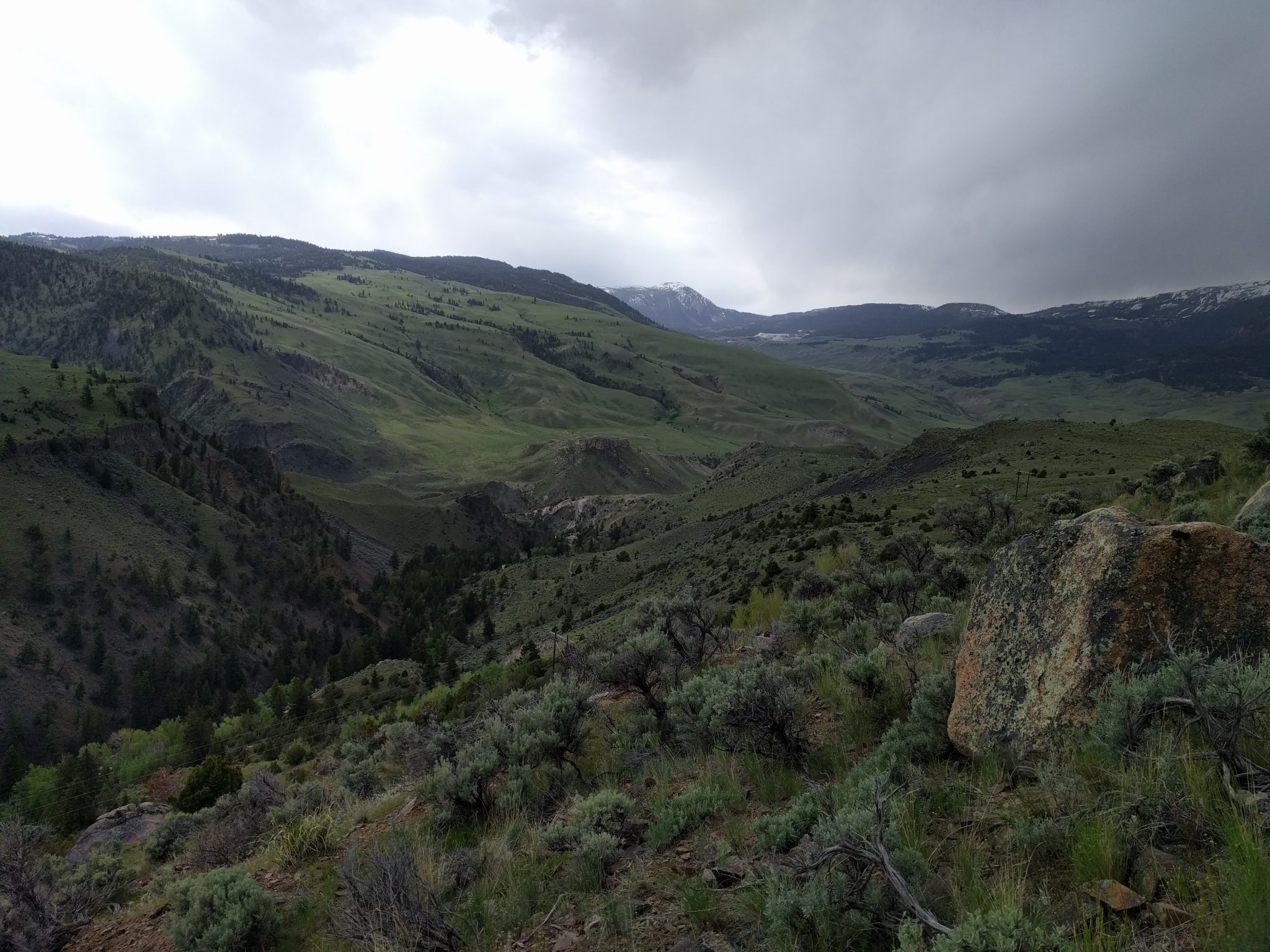 Driving around Jardine
It is so green around here and there are still some snow capped mountains. We have been warned by the locals that soon the green rolling hills and mountains will turn into brown ones. Until then, we can't get enough of the beautiful scenery.
Zack and I have been to Yellowstone before but my job took us into the park for a day, for a little tour. The park can get pretty crazy so we won't be going in too often. But we had fun and saw a few things that we didn't get to see the first time through.
Can you hear the collective "OOOOooooooo"
You can't have a post about Yellowstone without a picture of Old Faithful. It's cool to go right up to it, but a better spot to view it is from Old Yellowstone Inn. The Inn is one of the world's largest log structures. There are a few stories and if you go to the second floor, there is a balcony where you can take the whole thing in (both the lodge and the spouting of Old Faithful).
Look at this beauty
A hot spring
Our tour in the park consisted of visiting Norris Hot Springs, Old Faithful, and Grand Prismatic. We also saw lots of animals, none of which Zack got pictures of. Thanks a lot Zack.
Grand Prismatic
Besides being close to the park, we are smack dab in the middle of the Gallatin National Forest. There is no lack of trails or adventure too far away.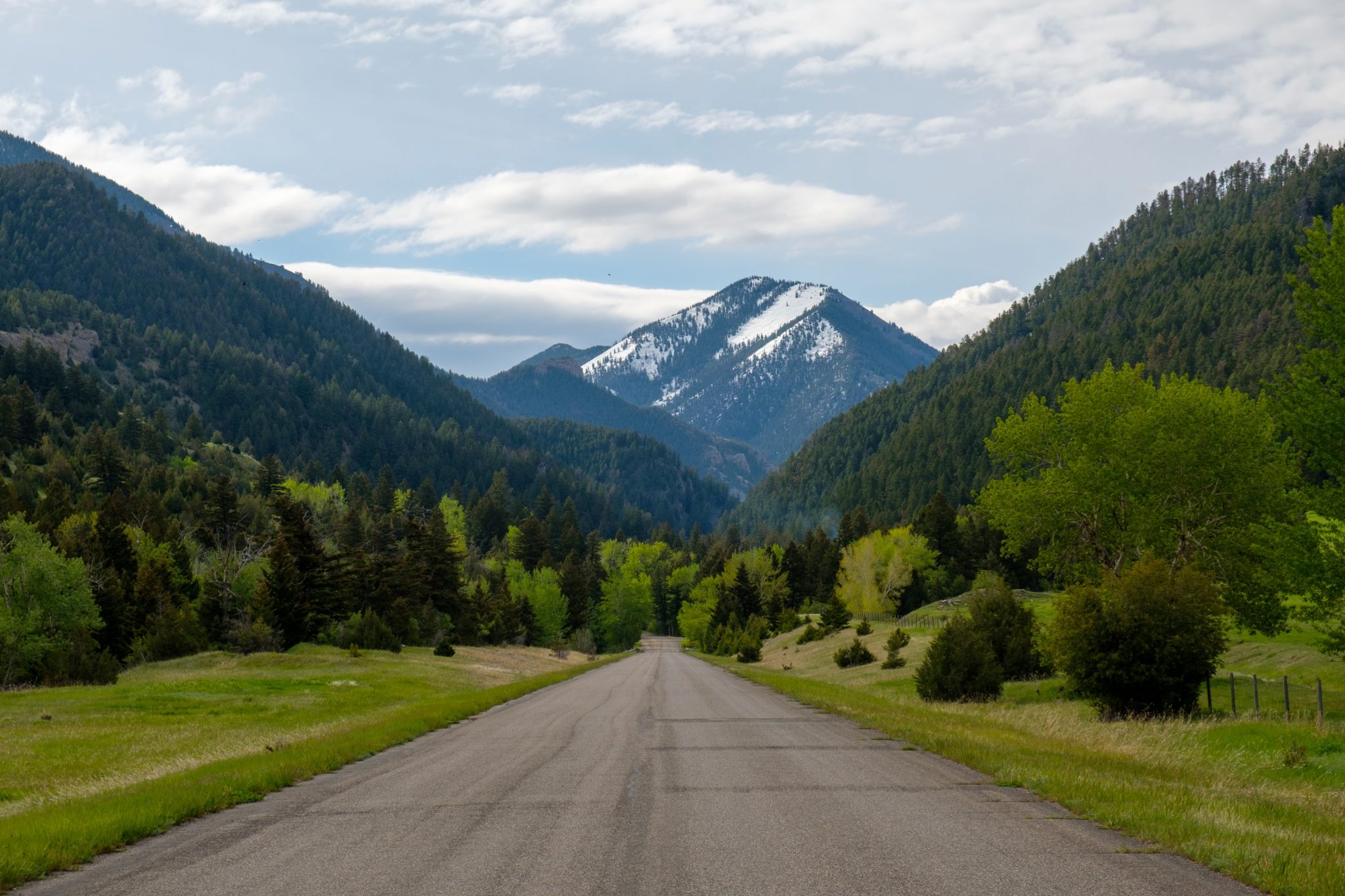 Driving into the Gallatin National Forest
Lodge built in the 1920's at the OTO Ranch
I took a small hike one day to the abandoned OTO Dude Ranch. It was the first Dude Ranch in Montana. It is now owned by the U.S. Forest Service and is undergoing renovations. Although I could not go into the lodge, I peaked through the windows. You can tell there is a lot of history there.
Some friends we met at Skooliepalooza, Ocean Family Roadtrip, also made their way to Yellowstone and invited me on a hike with them. We went on the Beaver Ponds Loop Trail, near Mammoth. Despite the weather being around 80 degrees when we arrived in Gardiner, it snowed the evening before I went on this hike. The snow dusting made the hike that much more beautiful. We saw a lot of elk on the hike and were lucky enough to see a beaver since they are primarily nocturnal.
It was recommended that we do the loop counterclockwise, so we did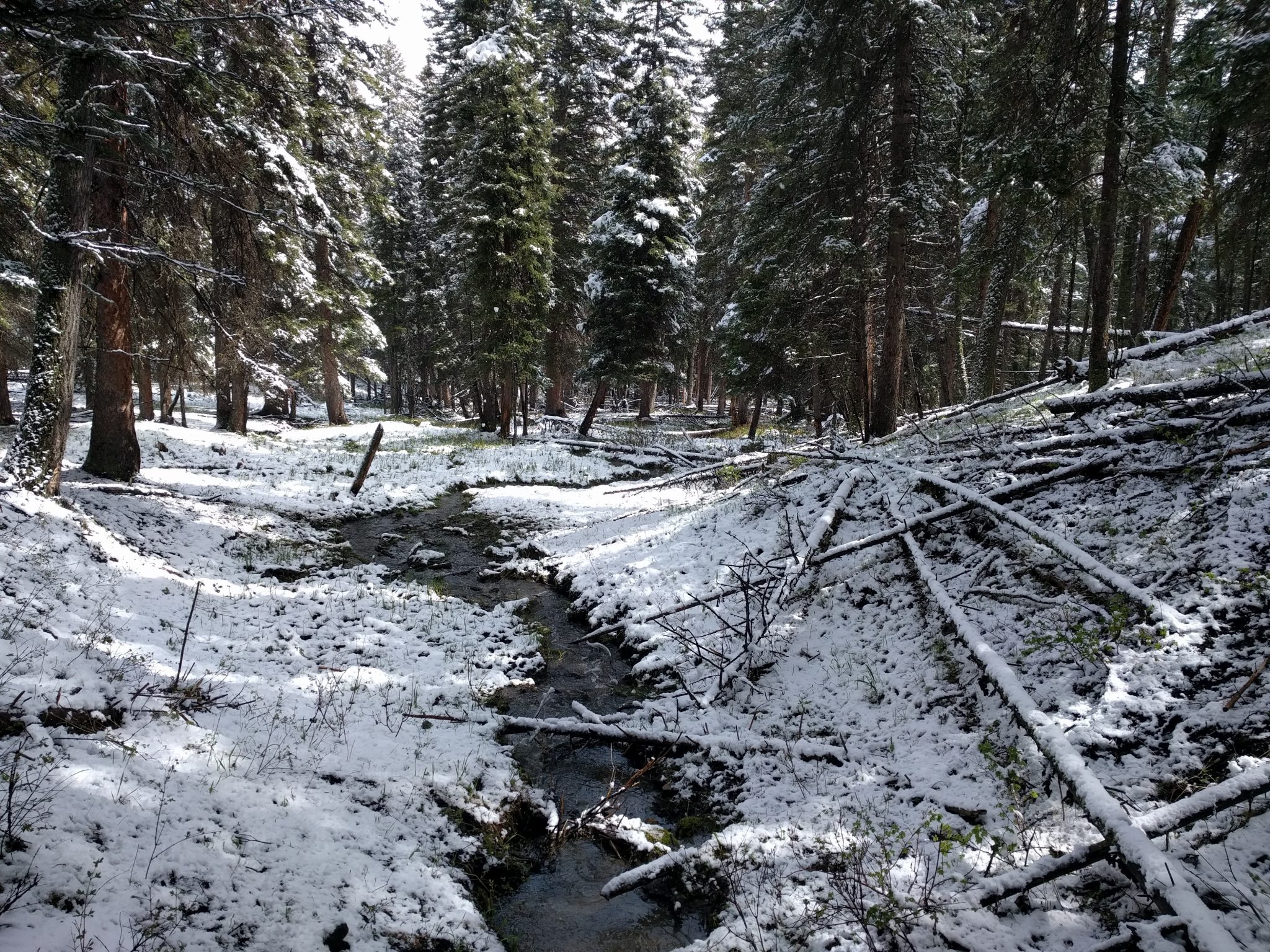 We crossed several creeks and even had to slosh through a flooded area
Beaver Ponds…beaver not pictured
The weather has since warmed up again and we took a nice relaxing float down the Yellowstone River. Some of the people I work with used to be raft guides, so they took us out on the water.
Waiting on the shuttle
Just Chillin'
On a side note, while rafting, we stopped at a little island to find morels. There were two dead elk there, which I learned have two ivory teeth. The more you know.
Zack's parents came to visit us for a few days. They were staying in Bozeman, so after their trek up here, we went to Bozeman to meet up with them. We were only about 20 miles from Hiyalite Canyon, part of the Gallatin National Forest.
The crew at Hiyalite Reservoir
Grotto Falls
Zack found a small hike to a waterfall, Grotto Falls, that we decided to do. Hiyalite Canyon has been one of our favorite places thus far. I sound like a broken record, but the beauty of Montana is indescribable. After our hike and lunch, we decided to do a little relaxing at Chico Hot Springs. It is a commercialized natural hot spring but oh so nice.
Next up was Teton National Park. It was a bit of a drive but none of us had been there before, so it was on our list. We didn't spend a lot of time there, so we will have to go back to do some exploring.
Everything looks better when it's covered in snow
The last day of their visit we went to go to some caverns about an hour outside of Bozeman. Being from Arkansas, we are familiar with Blanchard springs where you walk through a guided tour of the caverns. This is still a guided tour but there there is a lot of crawling, stooping, a there is even a small slide in the cave. I didn't think we would be so close to the formations. Our tour guide was great and there is a cool story to the history of the place.
Some cool looking formations
You'll have to go on the tour to get the full story, but once upon a time, visitors were allowed to take a formation with them from this room. You can see all the broken formations at the top of the picture
At one point you are in the Cathedral Room. Then after going through a few more rooms, you end up directly underneath where you were, in the Cathedral Room. If you are in the area, I highly recommend going on a tour.
Memorial Day was one of the few days that Zack and I have had off together so we decided to go see Passage Falls. Funny story, Zack actually went to go see this waterfall another weekend but he made a wrong turn and never made it. The hike is supposed to be about 5 miles long but Zack took the long scenic route and went 11 miles, and never actually seeing the falls. Thankfully when we went this weekend, we went the right way. In Zack's defense, there is a sign which tells the right direction but it was knocked down and in a pile of debri, which he saw on his way out.
Passage Falls
See, I told you that we have been busy.
Despite all the pictures in this post, there are MORE.