Apparently April is already over and we are already a week into May. One of the first things that goes when you are living on the road is the concept of time and on any given day I have no idea what the date is.
Before leaving La Verkin, Utah, we took some scenic drives through the Dixie National Forest. Most of the trails were closed because everything was still covered in several feet of snow, but the drive was worth it.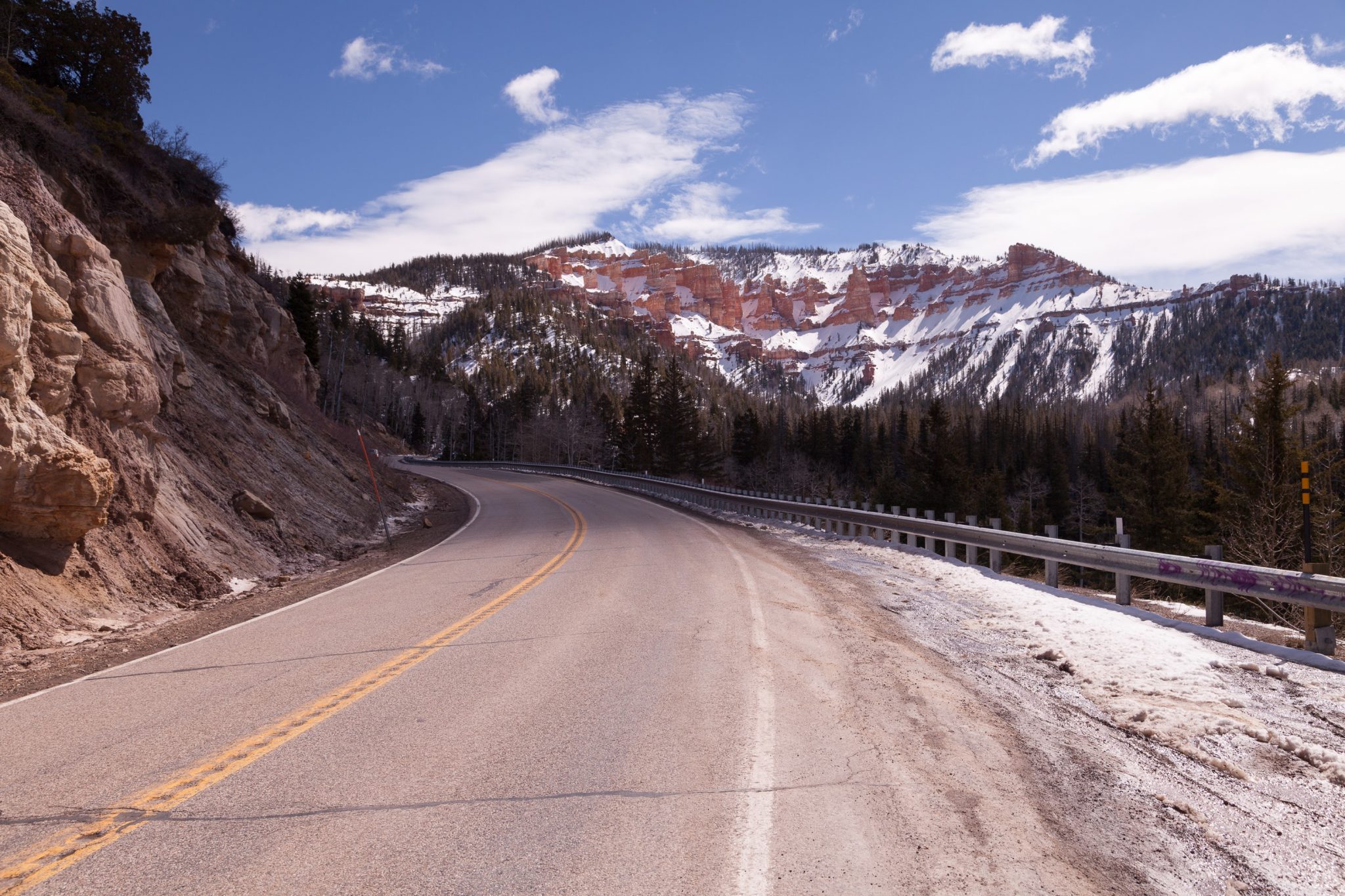 A view of Cedar Breaks from the highway
Continuing to take the scenic route out of Southern Utah, we were going to spend some time at Koosharem Reservoir. When we got there, neither of our wi-fi hot spots had a good enough signal. We use OpenSignal when scouting places to try and insure that we will have internet. Besides this one place, we have never had any issues with it.
A tree
Our camping spot for a night at Koosharem Reservoir
Since a good internet connection is required for Zack to work, we spent the night and then headed up to Utah Lake for awhile. We were able to park right on the lake and had some of the best views.
Just down the road are million dollar houses. We paid $0 to park here
These views never got old
This view gets real old, real quick
We also went to go meet some fellow skoolie friends on Stansbury Island.
Hanging out with the Pickle Relish Bus
One day we went and were walking the Stansbury Island Interactive Trail with Lola. The hike isn't hard but you have to walk across a huge dry lake bed. On the other side there are hills to climb to get a better view of the Great Salt Lake. Once we made it to the other side, Lola started chasing some bunnies in the brush while we started up the hill. We went up a little ways and then looked and called Lola, but she was gone. We ended up spending the next two hours scouting the whole area. After two hours and a tiny breakdown, I went to go see if she went back to the car. And there she was, just laying under the Jeep, taking a nap. I'm just glad that she was smart enough to go back to the car.
Onward to the Bonneville Salt Flats.
The Salt Flats were still under water, so no driving on them
And then into Idaho. We stopped at the Milner Recreation Area. We thought it was free but it ended up being $5 a night. There is free BLM land just on the other side of the river but after finding an awesome spot, we just paid to stay there. There are no hookups but they do have dumpsters and bathrooms. And if you're lucky, you can get a spot with a dock.
One of my favorite camping spots thus far
But what does it mean?
We tried to go see Shoshone Falls but as we were driving to it, we realized there was a big race and it just wasn't worth the wait that day. We hope to come back to the area later in the summer to check out more of Idaho. I think it is a pretty underrated state.
Obligatory Jeep photos have turned into obligatory Lola photos
We also camped at Pipeline Recreation Area. Since summer season hasn't quite started yet, we had most of the places to ourselves.
It's nice when we get spots on the water
Sunset at Pipeline Recreation Area
Next stop, Montana & Yellowstone for the first half of the summer.