In the beginning of March, we moved from Trona Pinnacles to Lake Isabella, CA. The water and rolling green hills were a welcome change. We stayed in the Hanning Flat dispersed area. There are a lot of free, as well as pay campsites, all around the lake. We ended up having the whole cove of the lake, where we parked, all to ourselves. The only other people we saw were the occasional people coming during the day to fish. It reminded Zack of the time he spent living in Switzerland. And Lola loved running around on a grassy area instead of rocks.
We aren't in the desert anymore, thankfully!
I don't know that it is normally so green in the area. There has been an unusual amount of rainfall in the Southwest this year. It was a little too cold to swim in but I did break out the kayak.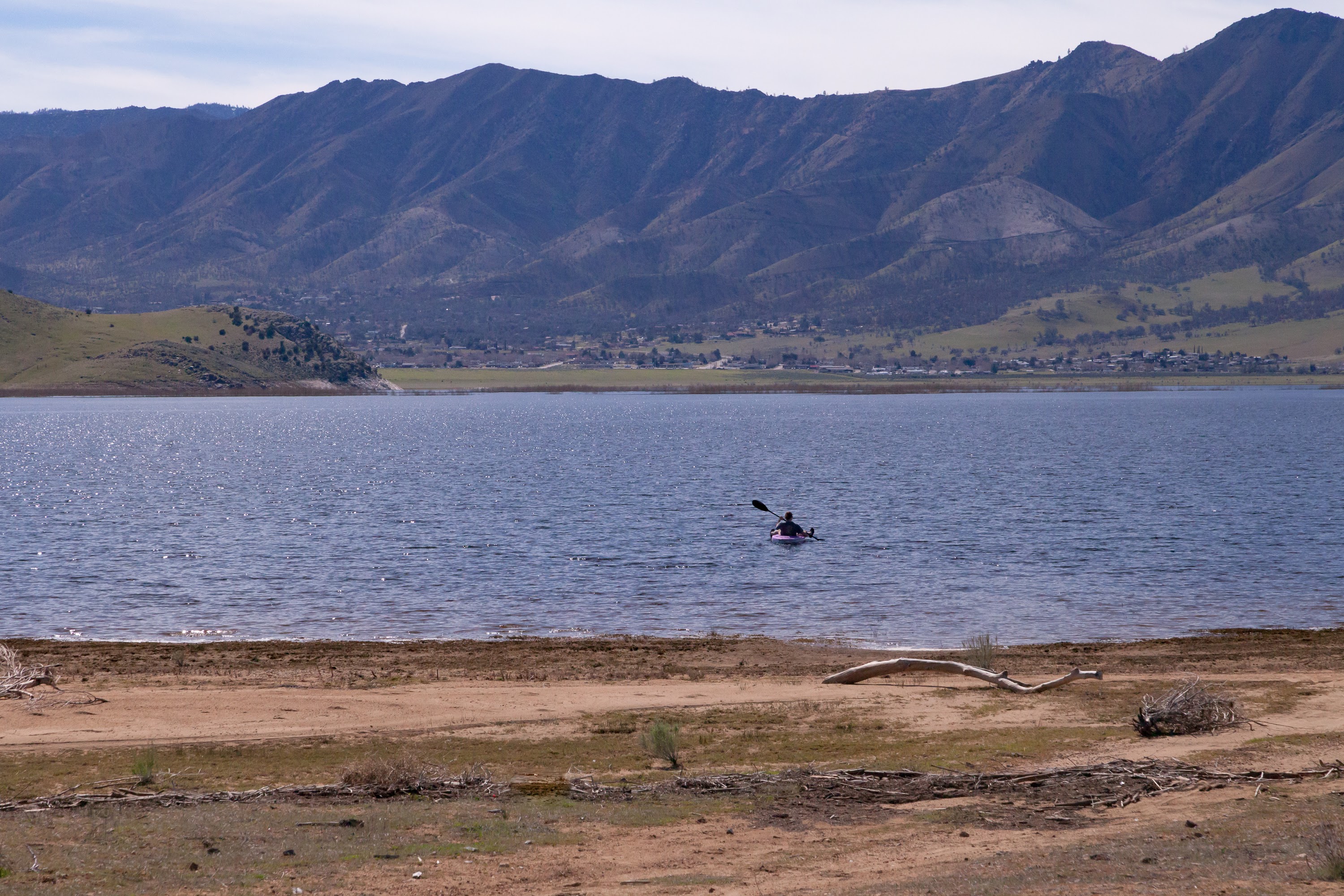 Getting my kayak on
One afternoon we went on a drive up Sierra Way, which follows the Kern River. During the winter months, they only open it as far up as the road has been cleared. It wasn't 100% open yet, only going to Johnsondale, but normally you can take it all the way to Sequoia National Park. The scenery was beautiful. There were lots of waterfalls and the trees we so desperately missed. We also saw a few fighter jets weaving through the canyons, which was pretty cool.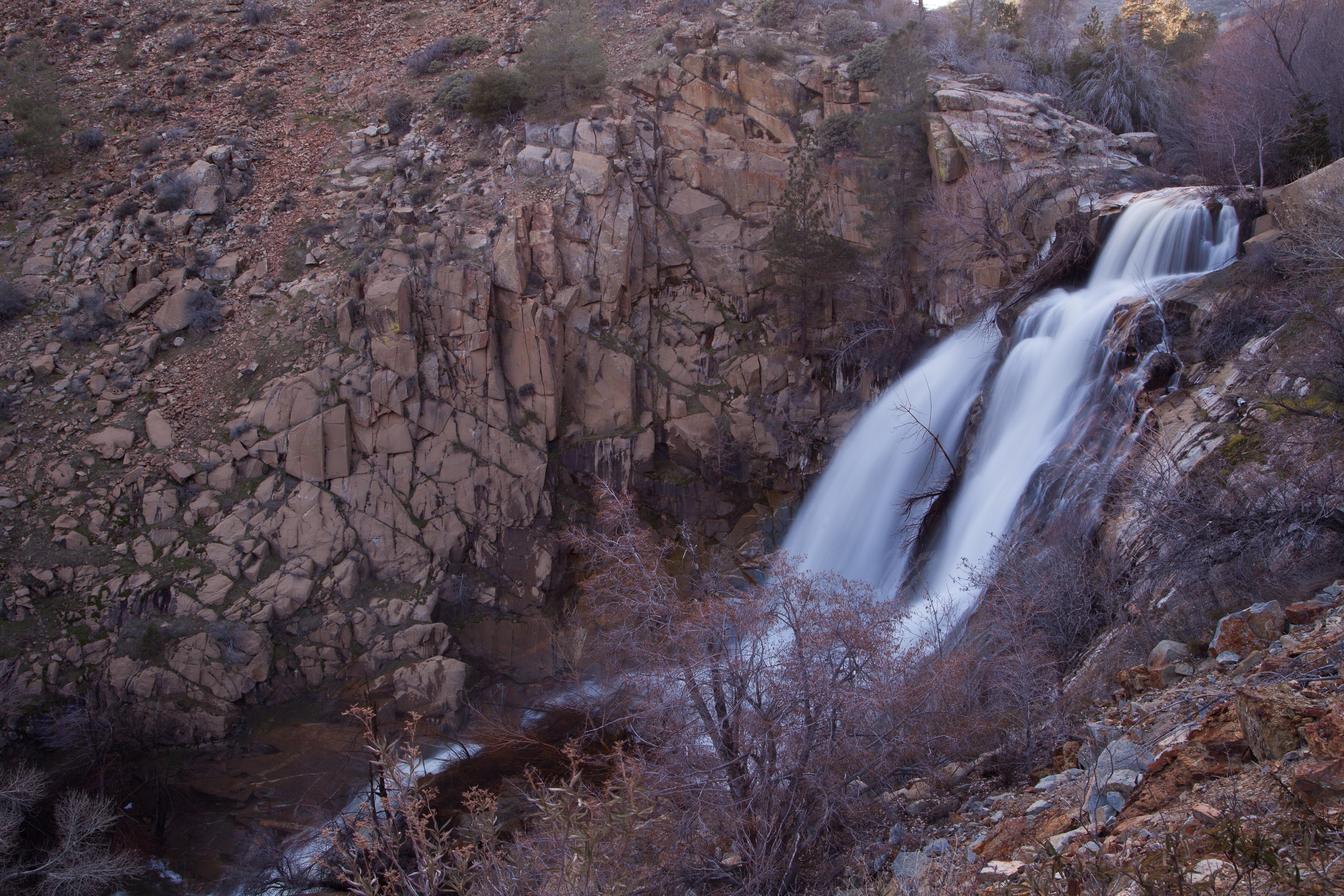 This waterfall is directly off the Sierra Way Drive
Purty view
A waterfall at a campsite along the drive
Judging from my expertise, this tree was 500,000,000 years old
We took the Jeep on this trip. Due to the steep climbs and narrow winding roads, I wouldn't recommend taking a large bus.
One Saturday we made the drive up to Sequoia National Park.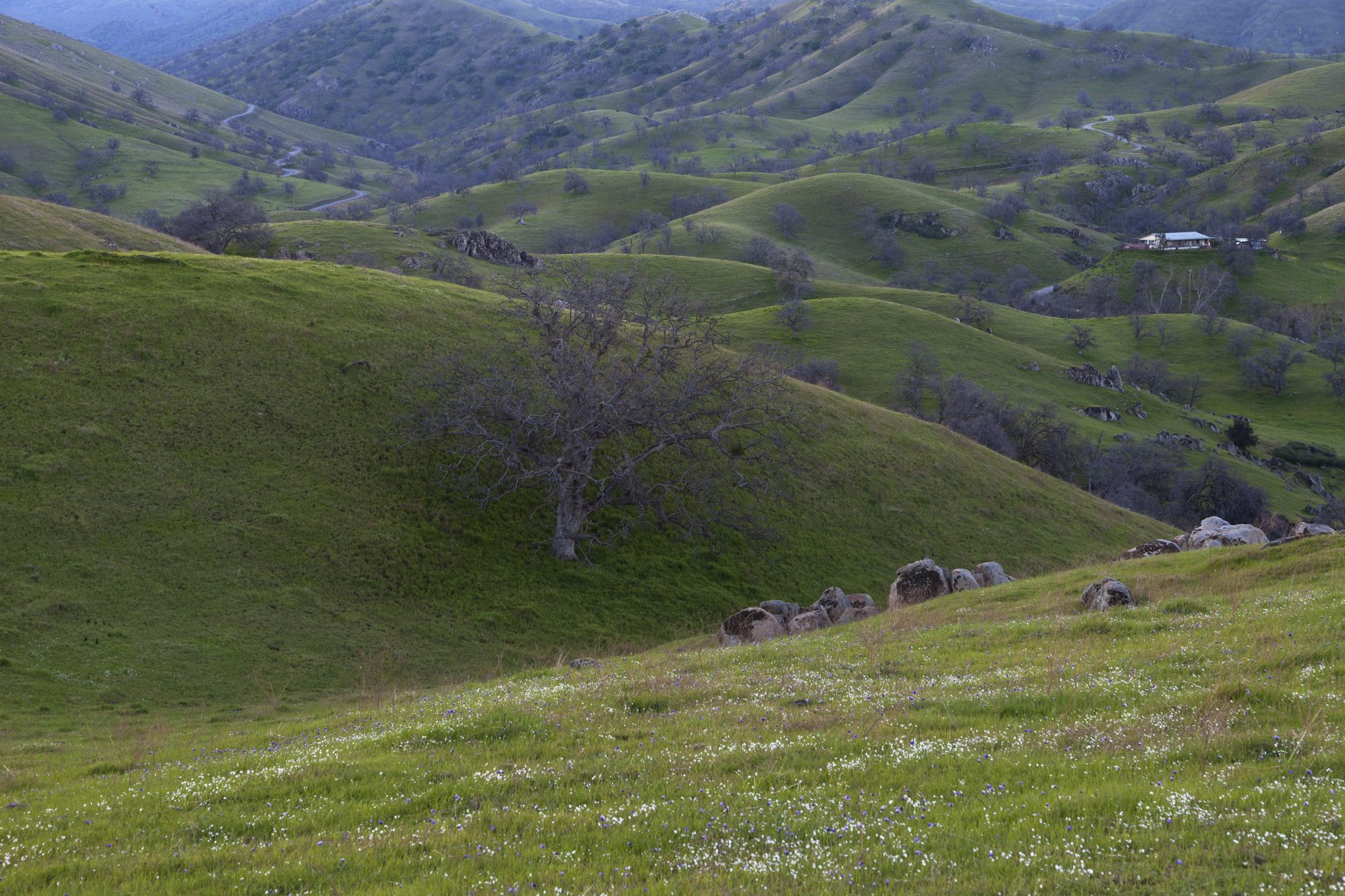 We weren't even expecting this drive to be nice
Because there was still so much snow up in the mountains, most of the trails and things in the park were closed. It was still beyond incredible; Although, for how much I was looking forward to going here, I wish we were able to get out and explore more.
Road shot number one
The Jeep road shot didn't make the cut. If you don't know what I'm talking about then you haven't been reading MY BLOG!!
Side note..thankfully we checked the national park website before going. In winter months they sometimes require chains on tires, and it can change at anytime. We bought chains before going because they were required to enter the park…even though we didn't need them the entire time.
Additional side note..one of the rudest people ever is employed as a Park Ranger here. Beware.
We stayed at Lake Isabella for about a week and a half and then headed to back to Mesquite, NV.
It was hard to say goodbye to our amazing spot, but onward we must go
The plan was to get a wood burning stove, shipped to a friend that lives in Mesquite, in anticipation of our stay in Montana. Long story short, we are going to get a stove a little later in our trip but all was not lost in our stop to Mesquite. We were able to hang out with the Millers again as well as get a few other things ordered for the bus.
There is nothing like a desert sunset
One of our taillights was out on the bus so Zack went ahead and replaced all the back taillights with LED's. An even bigger, and much needed upgrade, was getting two more 250 watt panels. We now have 1000 watts!! Zack's laptop that he uses for work drew a lot more power than we anticipated. The need to keep that charged through two consecutive cloudy days meant we needed more solar.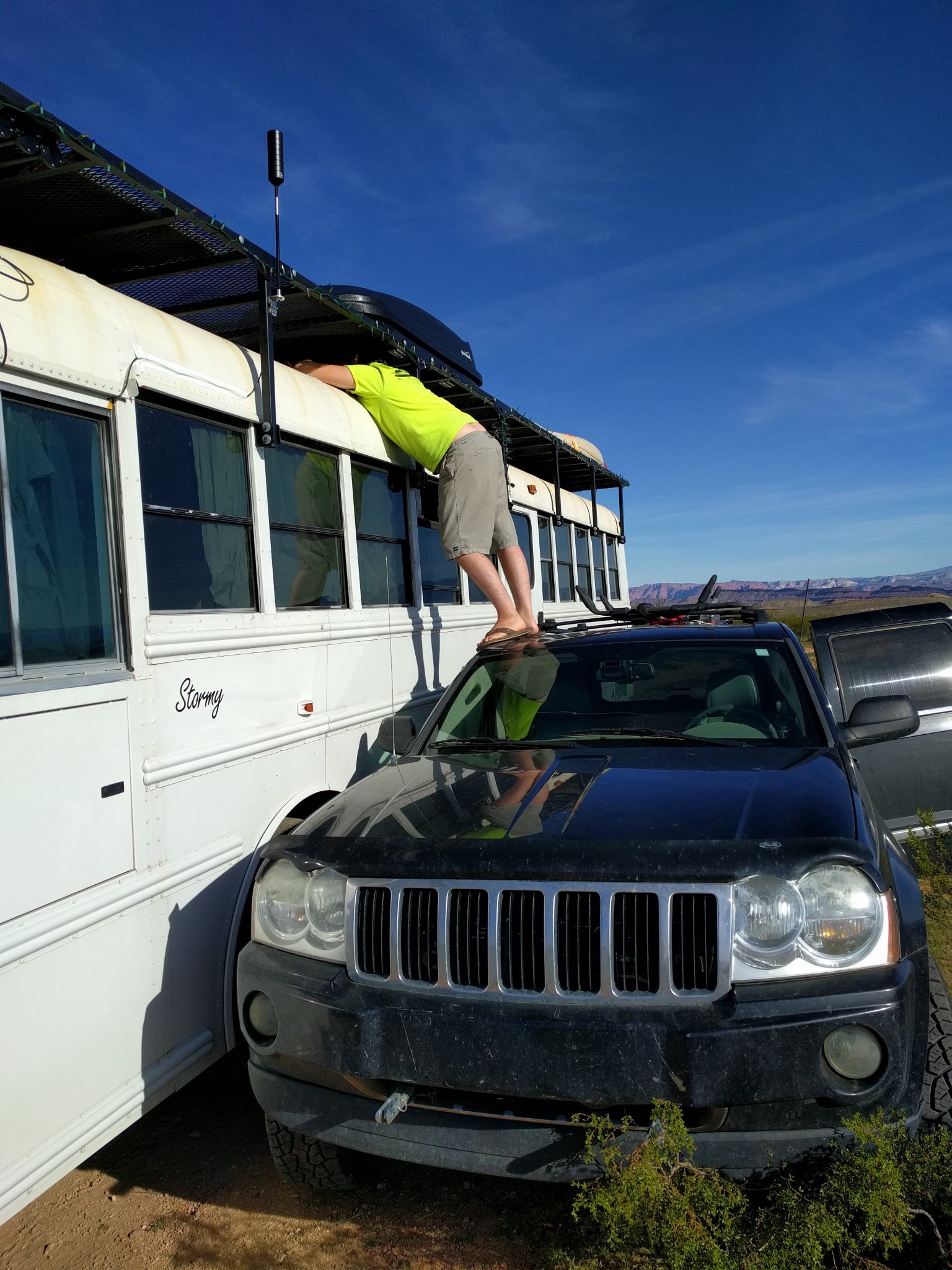 When you don't have a ladder
Will you just look at all that solar
The temps in Mesquite were reaching 90 degrees. That is too hot for us so after a week we moved a little further North, to St.George, Utah. Well, technically we were right on the Arizona border, but whatevs. There is sooo much to explore in Southern Utah and we only saw a few things. I quickly fell in love with the area and definitely want to come back and spend more time here.
Our spot in Utah
Just a short drive from where we were staying on BlackRock Road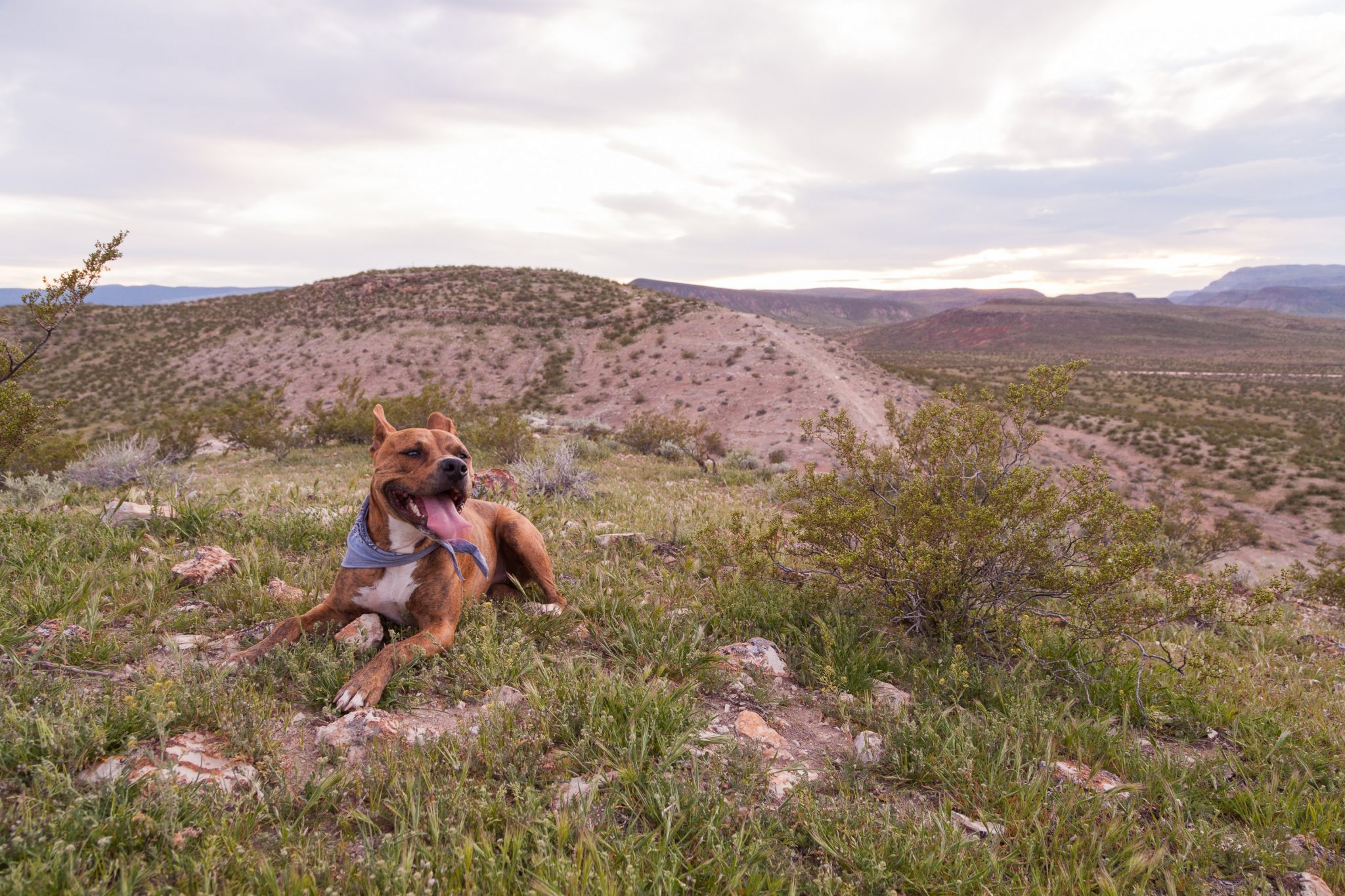 Lola being Lola
First we went to Pine Valley in the Dixie National Forest.  Lola loved playing in snow.
The Pine Valley Reservoir
Trees and stuff
More Trees
The Santa Clara river runs right through the recreation area and there is a really pretty riverwalk. The campsites were still closed but they had some of the best looking facilities. Looks like a pretty nice place to camp if you are ever in the area…and it's open.
After Zack got done working one afternoon we went to check out Toquerville Falls. Zack never trusts the all knowing Google. He balked at the estimated 35 minute drive to go 5 miles. Google – 1, Zack – 0. It is a crazy drive and 4-wheel drive is highly recommended. We only got a little stuck once 😀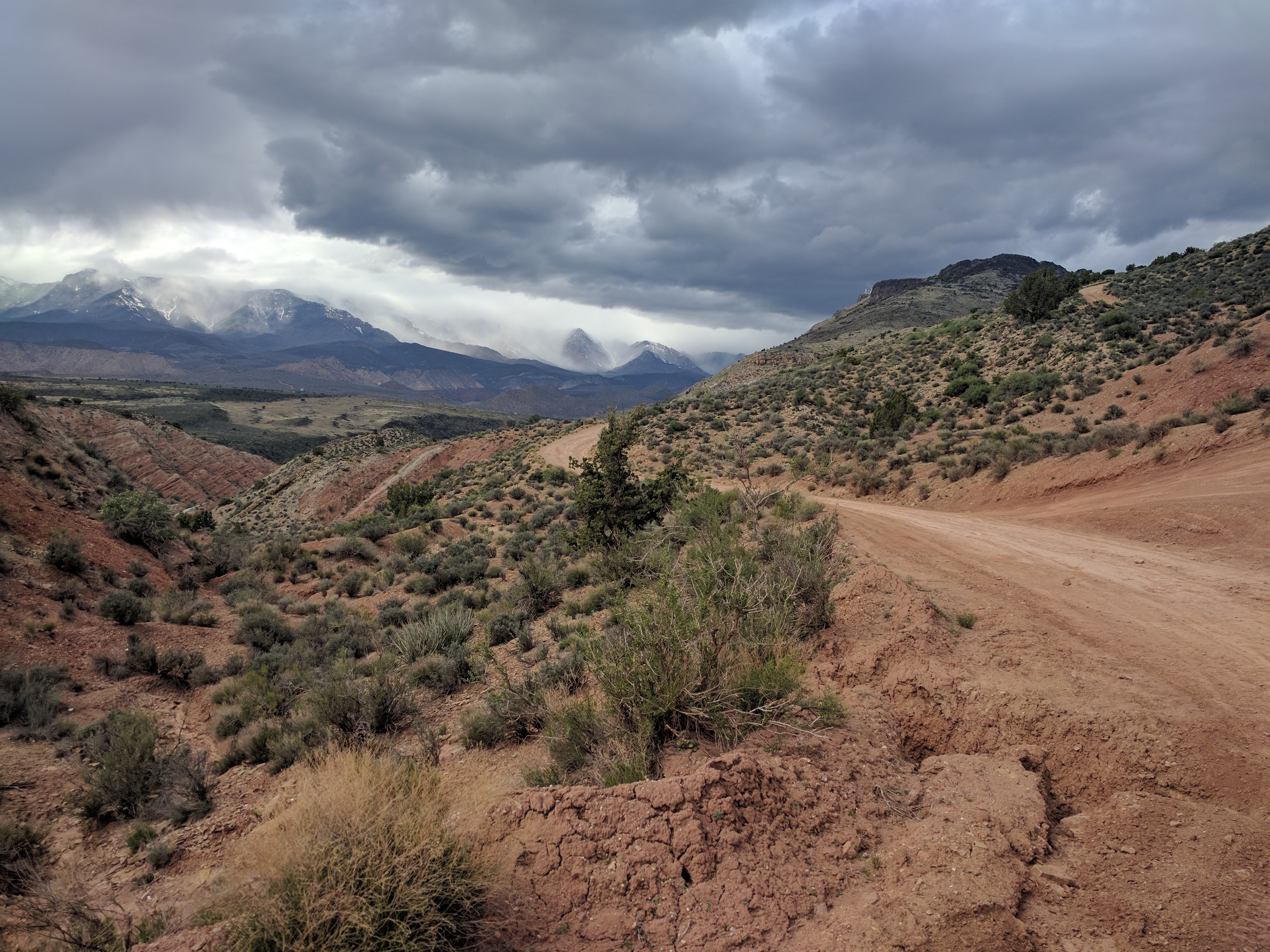 This makes the road look so nice
Toquerville Falls
Zack showing off the Jeep's skills
Once again the urge to move struck and we relocated to just outside of Zion. Wanting to be near water, we parked in some dispersed camping on North Creek. I don't know if it is always like that or if it is Spring Break around here, but that place was packed! We found a spot though and then the rain started. And didn't stop for about 24 hours. The lovely red dirt ground turned to a nice muddy clay. And it got everywhere! Zack ended up having to pull two cars out of the mud. The mud coupled with the sucky internet meant we must move.
We found a spot overlooking something different out every window. Zion out one side of the bus, the gorge & Virgin river out the back and the town of La Verkin out the other. Needless to say, it's pretty awesome.
The view our bus faces on La Verkin Overlook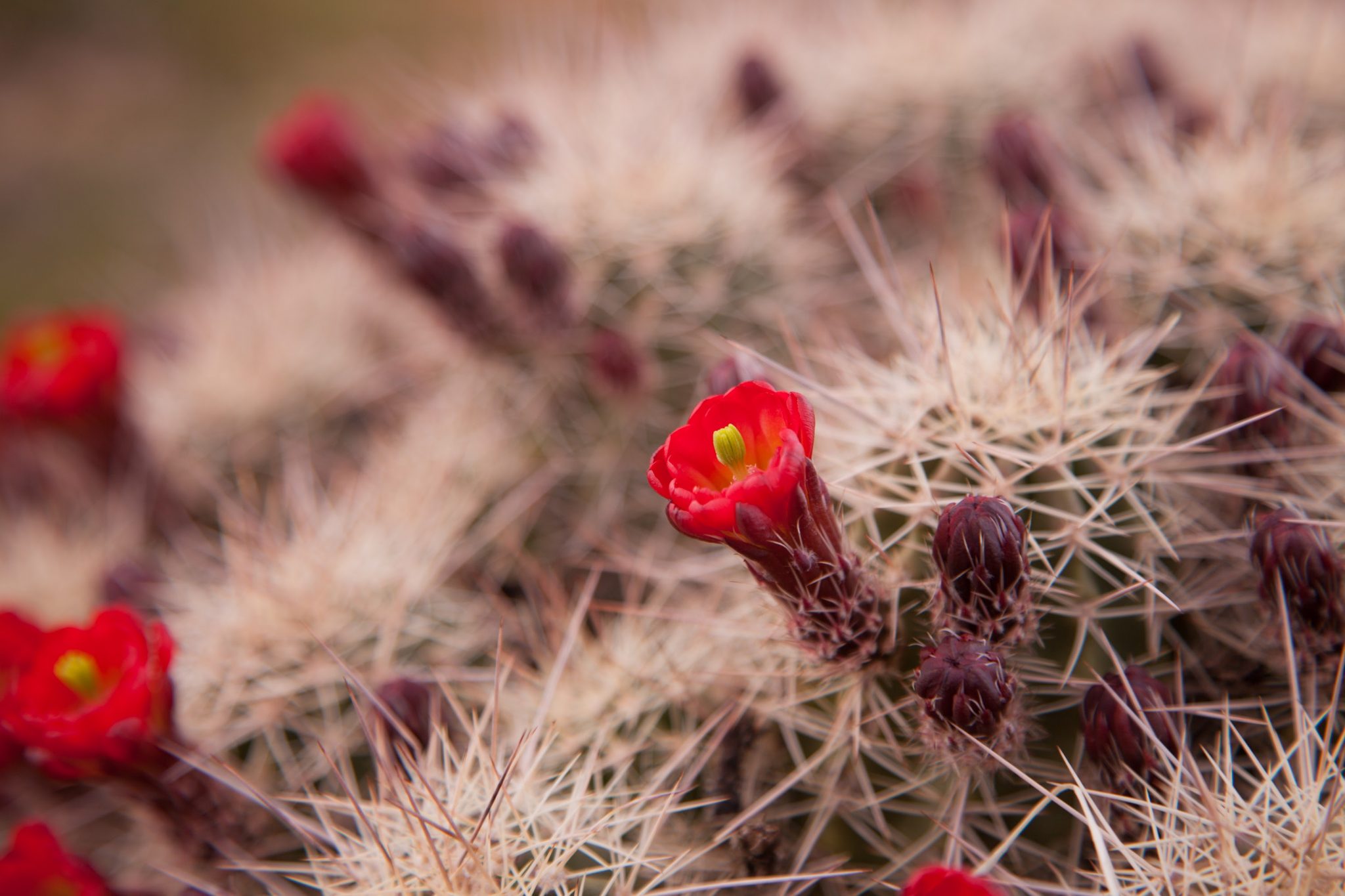 Finally found some desert bloom
We also took a drive one day and if anyone needs a free camping spot near Zion that doesn't have to have internet, you should camp on Smith Mesa. It has the most incredible views of Zion.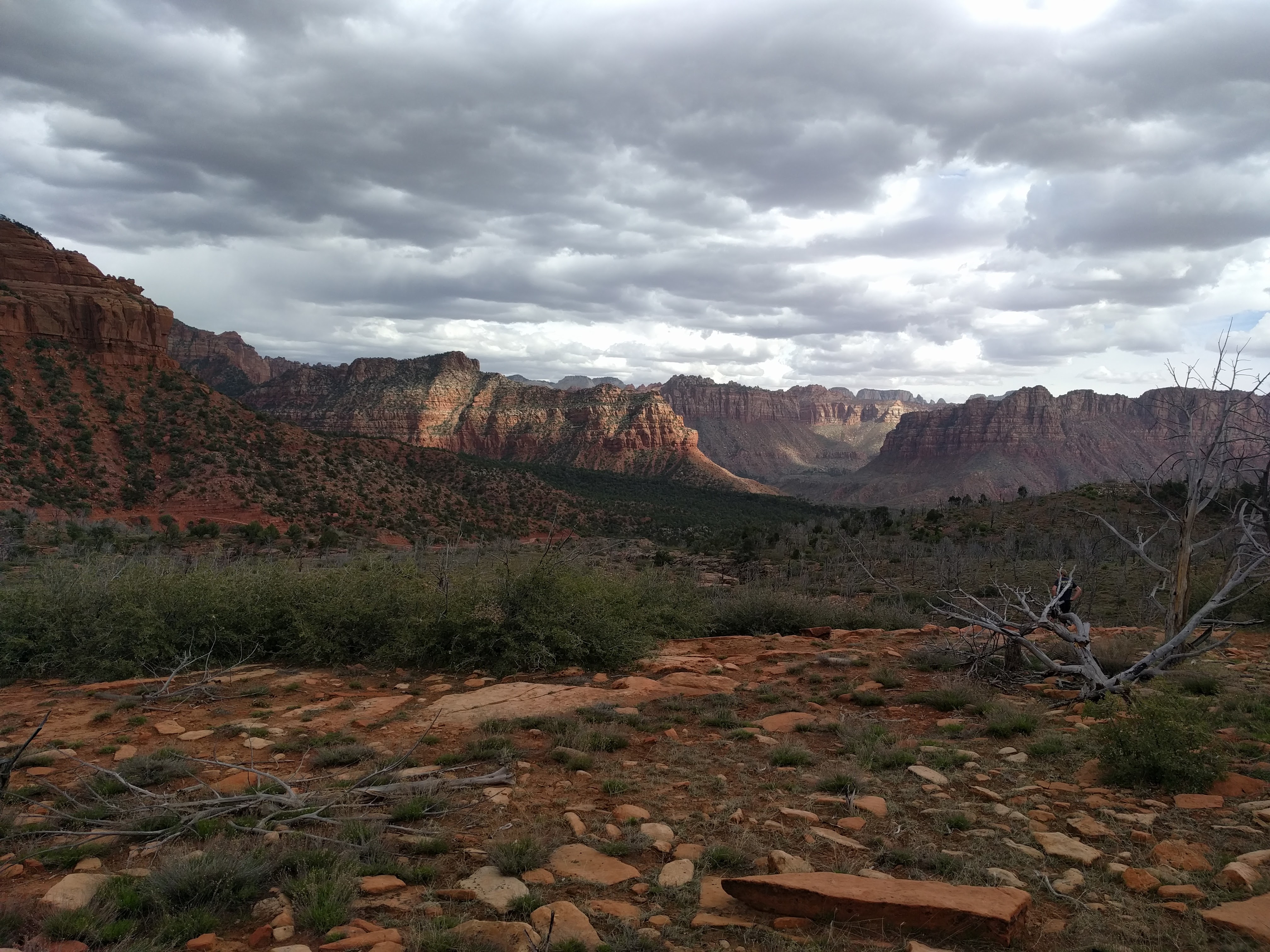 So sad we couldn't camp here
Kolob Terrace Rd, a lesser trafficked drive through part of Zion
So here we sit at La Verkin overlook until it warms up a little in the mountains…or the urge to travel strikes. You never know which will come first.
And for all the other March photos.