For the past few weeks I've been thinking "Man, I really need to write a blog post. I haven't written one since August." Nope. Turns out I haven't written one since July. 😅 Sooo, here we go:
August 2017
After leaving Gardiner, we, rather quickly, made our way to Coeur d'alene, ID. Zack and I decided to get a wood stove in the bus. Nick, the owner of Tiny Wood Stove, agreed to help us install it. (A full review to come soon!) What we didn't anticipate was to be so far North and have it be soo hot outside. With the bus reaching 105 degrees during the day, we went to the lake every afternoon to cool off.
Burn baby burn. **Note this was not taken during the 100 degree days
After a week, we couldn't stand the hot temperatures and we booked it back east in search of cooler weather. I believe the western portion of the U.S. was having a heat wave because East Glacier was the first sign of cooler weather. Glacier National Park is my favorite park so I was happy we were going to spend a few days there. The first time Zack and I visited this park, it was early June and the Going to the Sun Road was not fully open. Thankfully, it was this time.
View from the Going to the Sun Road
Our plan that morning was to drive the Going to the Sun road with a pit stop at Logan Pass to hike part of the Highline Loop trail. It is a very popular trail and the advice given to us was to get there as early as possible. We got there around 8 to a half full parking lot, but the fog was so thick you couldn't see two feet in front of you. We were a little torn on what to do but we decided to wait a bit to see if the fog would lift. We waited about an hour and a half and watched the parking lot fill up. At this point cars were circling to find a parking spot but the fog was still soo thick. We felt like it wasn't a very good idea to go on a hike along narrow paths with very limited visibility. Also, the trails were known for its views and we were pretty sure we weren't going to be seeing anything. We sadly decided that it wouldn't be worth it and to continue our drive.
Oh look, we can actually see now 
Logan Pass is the highest point along the Going to the Sun Road, so naturally as we left, we started driving around the pass where the road opened into bright blue skies. 😭 We knew that if we turned around we would be waiting forever to get another parking spot. We were kinda mad at ourselves. The drive was amazing but still sad that we didn't do the hike. That just means we'll have to go back!
We only spent a few days in Glacier because our end destination was Sturgeon Bay, WI. We took Highway 2 from East Glacier all the way across to Wisconsin.
Fort Peck, MT
We spent a week at Fort Peck Lake. It looks pretty from far away but up close there were a million flies and a faint fishy smell the whole time. Maybe we should have parked more along the main part of the lake and not in a little cove.
People always ask me if I drive the bus and my answer is always, "No, I haven't learned how yet." I've been nervous to drive something so large, as well as learning to turn when you are sitting in front of the wheels. The middle of nowhere where it is straight and flat seemed like a good place to try. Hello North Dakota!
Zack pulled the bus over, we changed seats, and I pulled back out onto the road. I took less than 2 minutes before Zack calmly and repeatedly told me to "Pull the bus over now!"
When driving the bus, there is a lot of give in the steering wheel, which I am not used to. And driving the bus is not exactly a smooth ride. The steering wheel can move an inch to the right or left with little to no impact on the steering. In my mind it feels like I have just steered the bus too much one way, so I move steer it back and end up overcompensating. Eventually, the bus is swerving from side to side and it feels like it is going to flip and we are all going to die.  So, in the future, I will not be driving the bus. You can stop asking me about it now.
Eventually we made it to Wisconsin, with a few more bumps and breakdowns than expected. But we made it!
The neighboring property where we stayed in Wisconsin
September 2017
Originally, we thought we would spend a week or two in Wisconsin and then head to the East Coast, as both Zack and I have family over there. We ended up staying a month.
By the time we arrived in Sturgeon Bay, we hadn't turned the bus off all day for fear that it wouldn't start again. I went around back to unhook the Jeep and ended up covered in diesel. Long story short, we spent about a month working on the bus getting it running again. We replaced the alternator, the starter, fixed a leak in our diesel line, and replaced our bus batteries.
In the meantime, we got to hang out with GypsyWolf Adventures.
Aerial shot
It was so nice to be able to park on private property and not worry about the things you do when you are constantly traveling. Sarah and John showed us the sights in the area. We also filled up on our fair share of cheese curds, Culver's, and some of the best pizza ever (Wild Tomato, if you are ever in the area).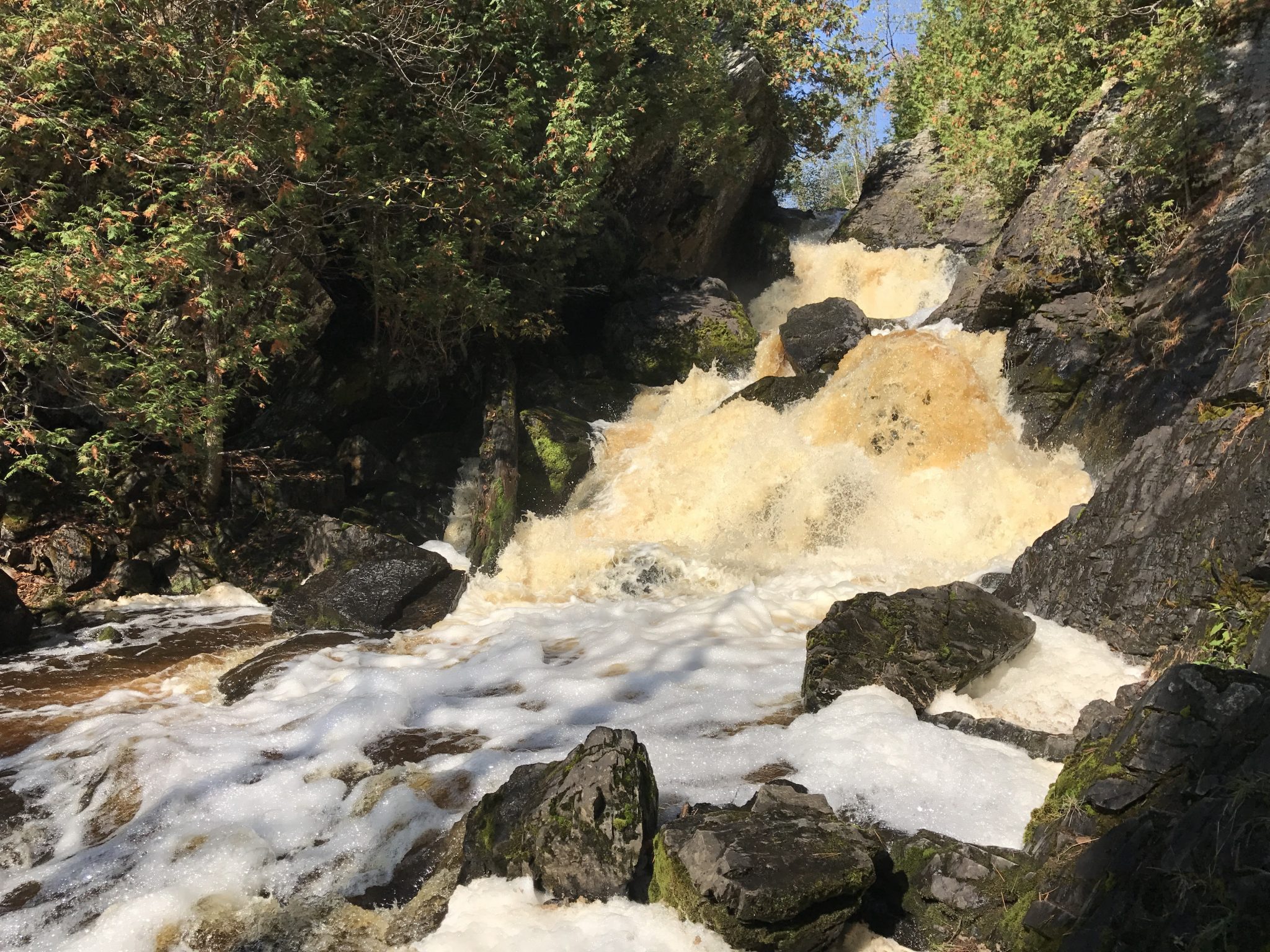 One day we went on a waterfall tour
We stayed in the thumb of Wisconsin, in between the bay and Lake Michigan
We didn't get a whole lot of pictures from our time in Wisconsin, but I think our favorite parts were just hanging out around the fire and taking walks in the woods. The simple things in life.
Sarah and John recently got a new dog, Gypsy. She was the perfect playmate for Lola and they became fast friends.
Lola's new bestie
After we got the bus running, we re-evaluated everything and decided it was best to head back to Arkansas. There we could save up some more money for bus upgrades and repairs, and spend time with family.
Our goal was to book it back to Arkansas to surprise Zack's mom and Pawpaw. I think she was surprised, although, call it mother's intuition, she said she had a feeling that we would be back soon.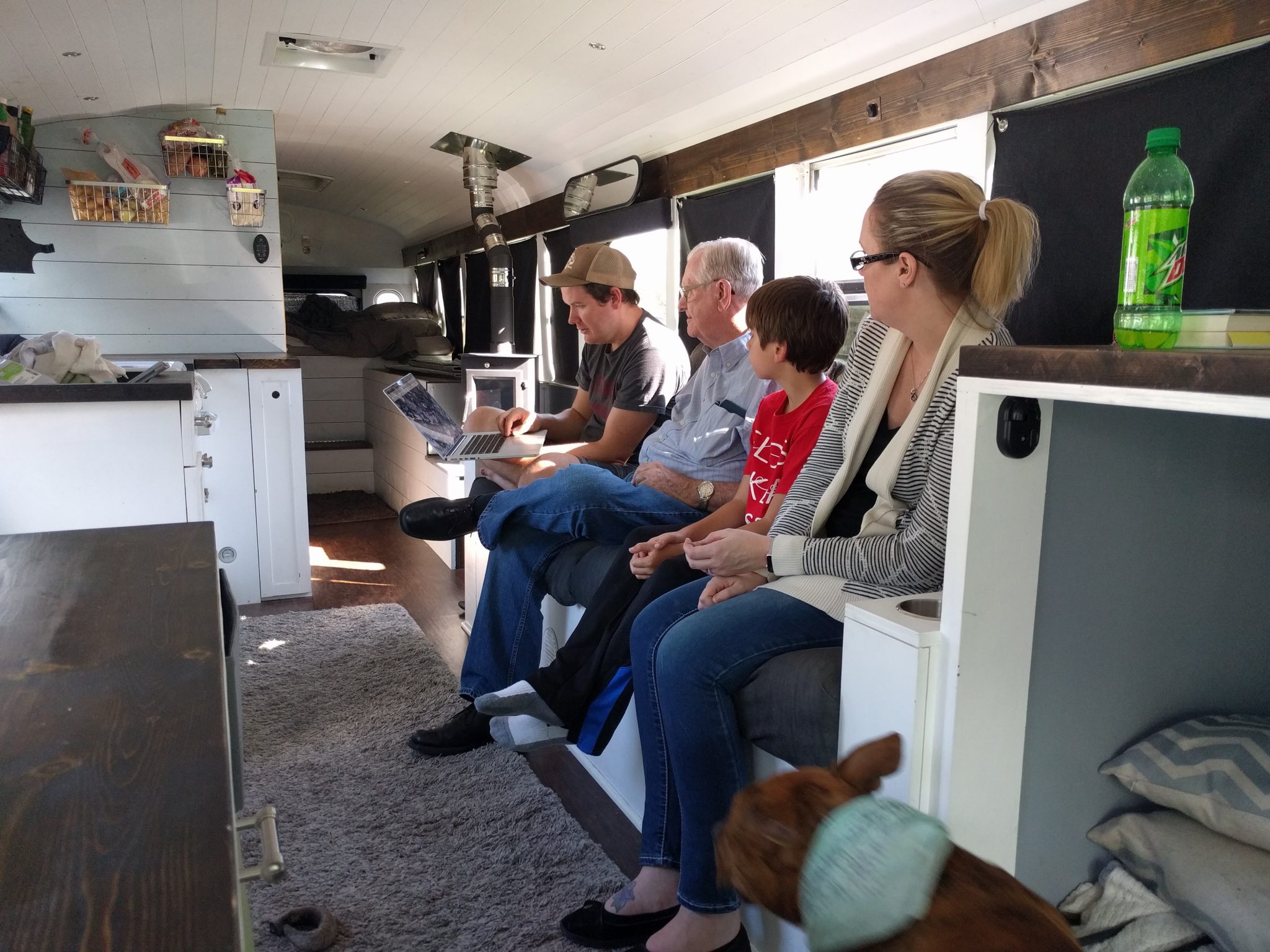 Zack is showing/telling his family about some of our adventures
Zack's dad has recently started a new career in truck driving, so although we didn't get to see him in Arkansas, we did get to meet up with him on our way home.
😀
We also briefly stopped in St.Louis to see the arch. Unfortunately, parking is really questionable down there so we didn't stay too long. There are parking spaces in front of the arch that says 'Bus Drop-off Only' but everyone was parking there anyway. We didn't want to end up with a ticket, so we just hopped out to get a picture and then continued on driving.
Stormy meets the St.Louis arch
St.Louis has some pretty amazing graffiti
Can you find me in this picture?
October 2017
Since returning to the South, the weather was high 80's and humid. With no air conditioner, we learned (from Idaho) that we need to stay near water. The Buffalo River it is. We camped right along the river for about a week.
In all its majestic glory
Although we didn't get any pictures, we got to meet and hang out with Doug & Hollie when they came to camp with us for a night. They have a stationary bus conversion and we are excited to meet up with them again. One of the best parts of road life is all the amazing people we have gotten to meet.
Nature's air conditioner
Zack also went on a 3-day canoe trip with a friend, to float a section of the lower Buffalo River.
Canoe filled with all the essentials, like a Tri-Pod Grill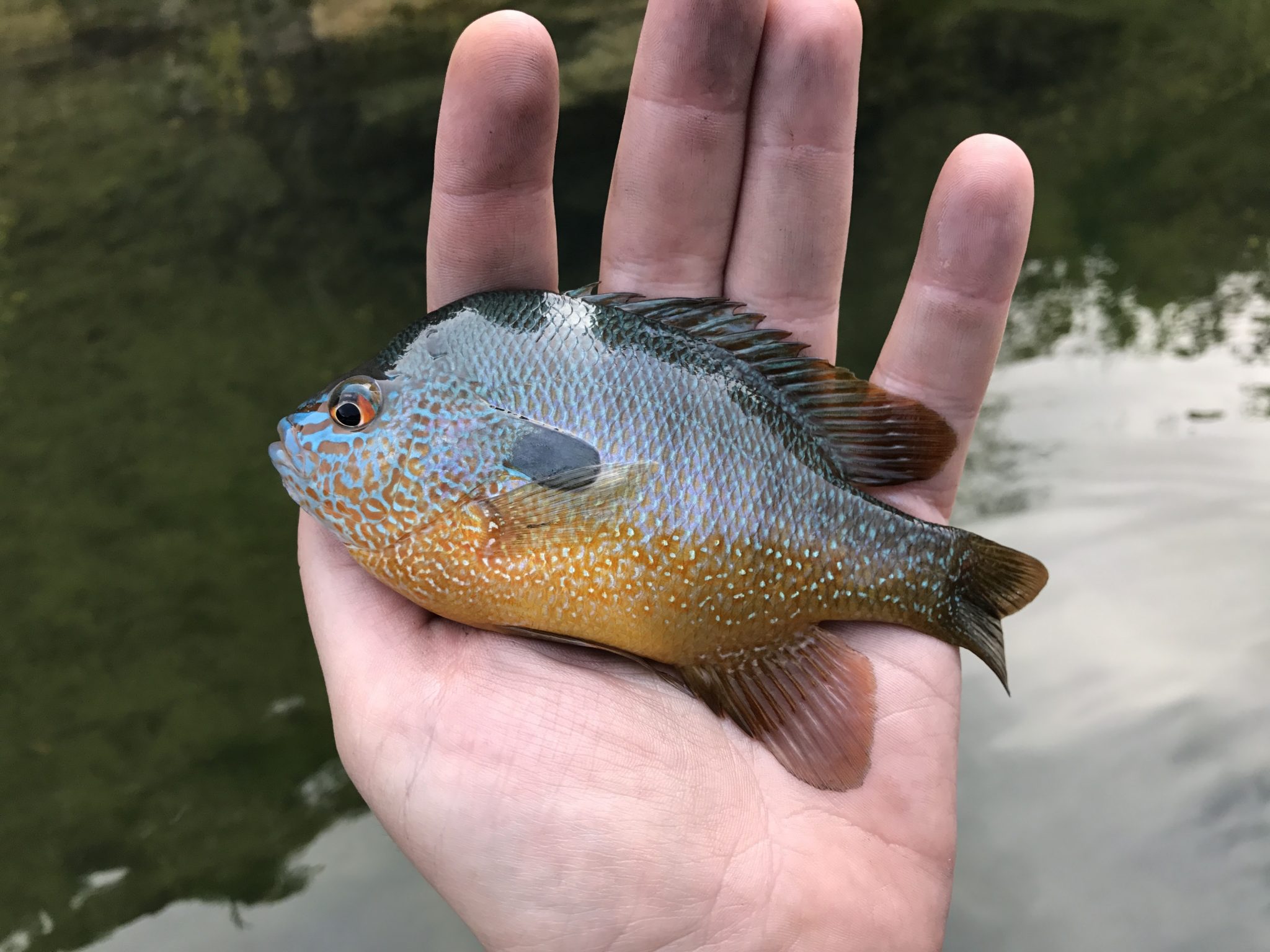 Purty little thing
We have discovered, since being on the road, a love of campfire cooking. For some reason things you make on the fire taste 1,000 times better than when they aren't. My favorite are campfire nachos.
My one true love
Ever since WI, we have had trouble starting the bus. We thought it was because of our batteries so we replaced those (still under warranty thankfully). Since that didn't fix the issue, we are back in Central Arkansas for the time being, with the bus going into the shop soon for a checkup. Fingers crossed it doesn't cost too much or take too long.
However, the most important thing that happened in October was this little lady turned 3.
She is clearly not thrilled with this photo op
Sometimes it is hard to only choose a few photos to include, so check them all out: