On Tuesday, December 20th, when Zack's niece and nephew hopped off the bus from school, they hopped right into our bus and we were officially Vegas bound. 
Leaving Arkansas, we decided to take 30 down to Texas and then take 82 westward. It goes further south so we were hoping that the weather would be a little nicer and with the bus reaching max speeds of 60 MPH, we don't lose much time taking this route over the interstate. 
The drive was a long one. The worst part being Texas. It was interesting driving through some of the old towns, but then we got to the fields. Lots of cotton, lots of nothing.
How Lola feels about Zack's driving
The one redeeming thing in Texas was the little town of Crosbyton. Right off the highway, their city park has free camping for 2 days with FULL HOOKUPS. Full Hookups. For free!
Crosbyton, TX: Probably the only place in the world with free camping and full hookups
It is nothing fancy but the kids played at the park and we spotted some llamas across the way.
We almost lost Loran to the llamas.
We stayed for the night and everybody got warm showers. Win, win. This was the only place with hookups that we stayed. We boon docked all other nights on BLM land. 
Our real first destination was White Sands National Monument in New Mexico. We made it Thursday night, camping just east of the park at Lake Holloman in Alamogordo, NM. Not only were we near a lake, but because it is right next to an Air Force base, you can see the occasional fighter jet fly overhead. 
Not a bad spot for the night. Minus the smell of fish.
Friday morning, we drove over to White Sands. As you drive further into the park, the more mounds of white sands surround you. Eventually it looks like you're on a whole other planet. We traipsed around the mounds for a bit before we hit the road again.
I imagine there aren't puddles here very often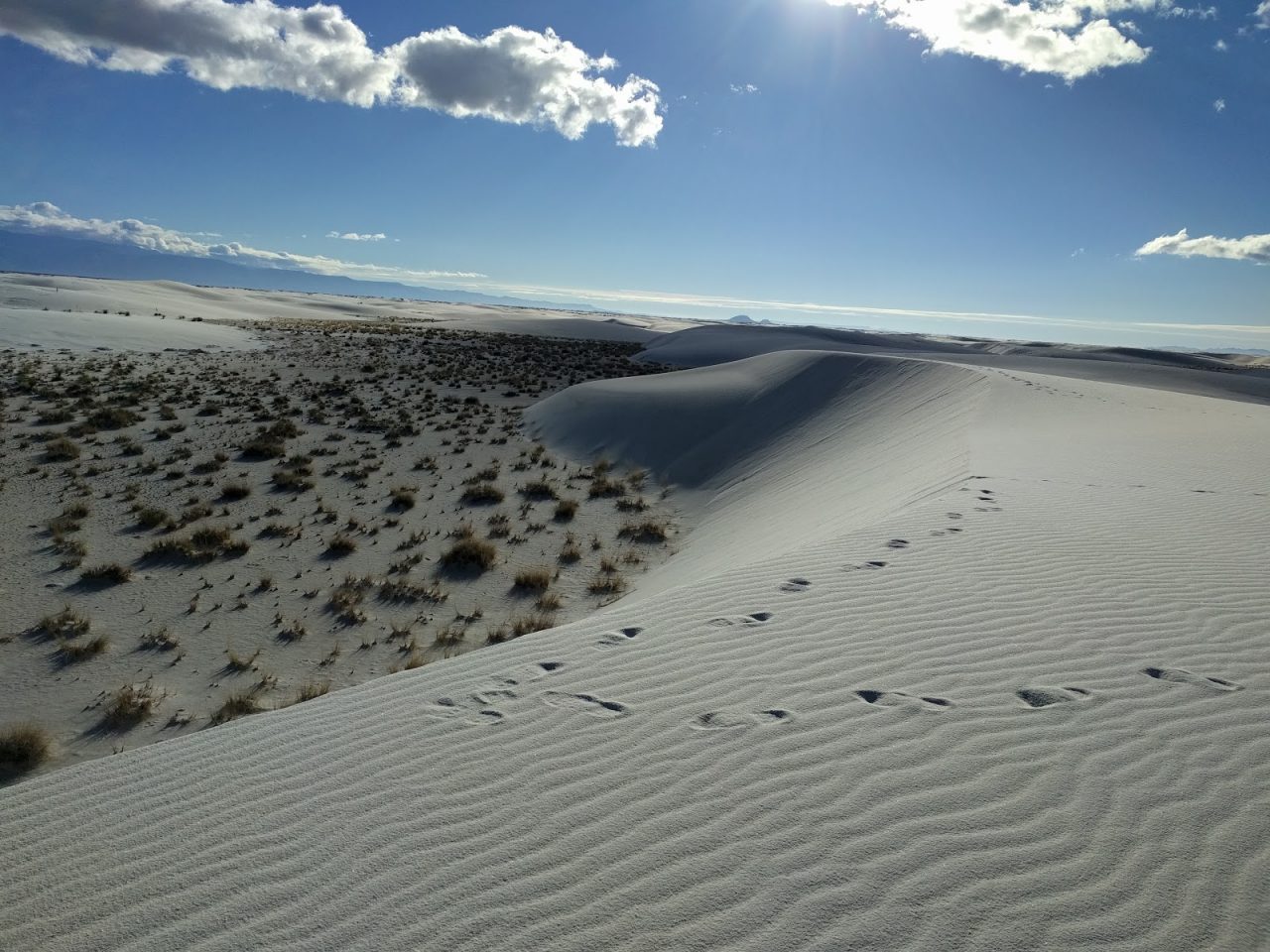 It was so purdy
The only thing I wished we had done was brought, or bought, sleds. It wasn't until we were leaving the park that we noticed a sign where they had them at the gift shop. Fail. They need to put that sign at the entrance. Or maybe their was one and we didn't see it. 
Oh well. Off to the Grand Canyon, with a small pitstop in Phoenix. We spent Christmas Eve and Christmas day in Phoenix with some extended family on Zack's side. It was nice to take a break, albeit a small one, from being on the road. I know Zack was glad to get a break from driving. I still haven't learned how to drive the bus…but it's coming, I promise. 
We learned a fun new game called LCR. I think Cari got caught taking a selfie
Monday morning we were set to pull out and were topping off our water tanks when Zack's brother in law noticed a gash in the side wall of one of our back tires. We knew that we were going to need to replace the tires this next year, but we were a little unprepared for it to happen so soon. 
Love's travel station's have big rig tire services so we went to the closest one hoping they could help. In the end, they didn't carry our tire size, with it being one size too small. They did recommend a shop just 2 miles down the road though. So off we went. 
Of course, they also did not have our tire size (10r22.5), but could get it the next day. Since it was the day after Christmas, which fell on a Sunday, most places were still closed. We couldn't really drive any more on that tire, and with no other options, we spent the night in the parking lot of Danny's Big Rig Resort.
Early in the morning, Zack went and talked with the manager of Danny's. He recommended going up one size in our tires, to 11r22.5, as they are the most common tire size for big rigs. Love's and other big rig facilities would be able to help us in the future. This was also recommended by the host of the skoolie meetup in Texas we went to in November. 
With all this advice, it definitely seemed like the right way to go. And upgrading to a different tire size means we get to replace all 6 of our tires, not just 1. Merry Christmas to us. It's a good thing that Zack and I didn't buy each other presents this year. While replacing the tire, one of our wheel hubs was leaking oil into our brakes. We definitely got that fixed too.
Stormy getting her nice, new, expensive shoes
We had a great experience at Danny's and recommend them if you are a diesel and need servicing in the Phoenix area.
So, a day and too many dollars later, we were on the road again; Stormy all decked out in her new shoes. We got to the Grand Canyon at sunset, so we found a boon docking spot just south of the entrance for the night.
Next year's Christmas card
Zack wanted to try and get some sunrise shots so the next morning he woke us all up bright and early. Since it was cold and snowy, we didn't venture too far from the main 'touristy' overlooks. A few years ago, Zack and I were here and went out to Shoshone point. It was definitely a better spot than where we went this time.
No sunrise shots
After finding a place to eat a warm breakfast we were finally headed over to Las Vegas. We found a book docking spot in Boulder City, about 30 miles Southeast of the Strip.
Home for a week in Boulder City
We were there for a wedding and didn't anticipate spending much time on the strip, so this worked out well for us.  We stayed in the Eldorado Valley Dry Lake Bed. It looks exactly as it sounds. A lot of people come out there to ride dirt bikes.
We made it onto the strip twice. Our time was limited there but we did make it to the fountains at the Bellagio. I also gambled away a whole $6. I went in with $20, but after losing $6 I wasn't feeling very lucky. So I decided to cut my loses at 6. Zack's cousin had a few dollars and his dad told him to put them in a machine. He walked away with $5000. 
Besides the Strip, we also went to Red Rock Canyon and Valley Of Fire State Park, by way of the scenic route through the Lake Mead Recreational Area.
Lola enjoying her view of the mountains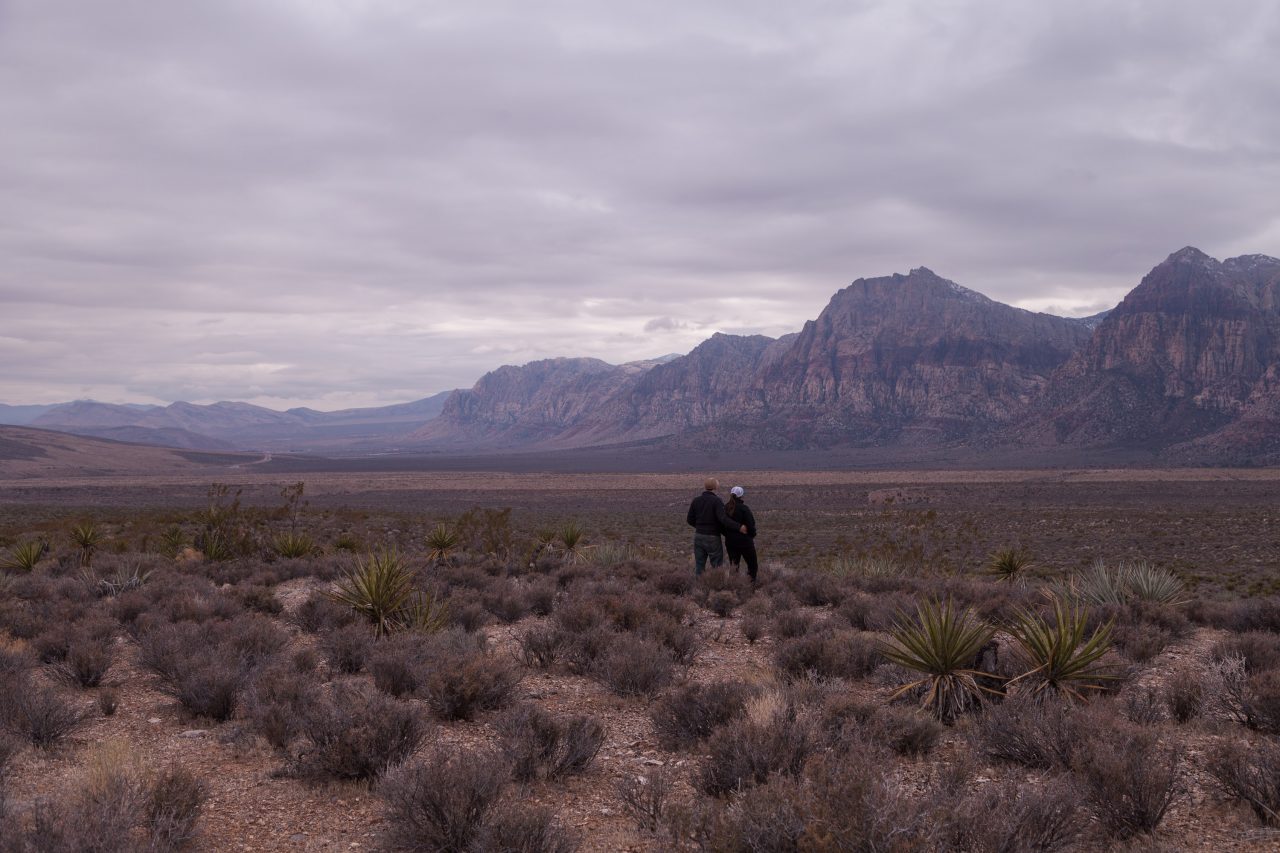 Zack and I enjoying our view of the mountains
If you ever go here, it's fun to play Where's Waldo with the hikers climbing Red Rock Canyon
Valley of Fire
We stayed in Boulder City about a week, the longest we have been parked anywhere.  We were both ready to move on, as we were pretty close to a highway and it was cloudy and cold. So onward we will move, heading down to Quartzsite, Arizona.