Last week Zack and I were on vacation in Gulf Shores, AL with our parents. We booked this vacation about 6 months ago, long before we decided on our new adventure. So the plan was for Zack to fly to Tampa, FL and pick up the bus. I would ride down to Gulf Shores with my parents and Zack would meet us there, driving the bus. And then at the end of the week we would drive it back home. The timing of everything definitely worked out in our favor.
Zack called me from the road: "I'm driving a bus! I'm driving a bus on the interstate!"
On the way to Gulf Shores, the latch broke on one of the side panels that is used to access the engine. Duct tape held it until he got to the beach house and then Amazon two-day shipping and a screwdriver was all it took to fix it. A little more worrisome, the speedometer controls kept turning off and on. We assumed it was probably a loose connection and we could fix that when we got home.
So Saturday morning we hit the road to drive back to Conway, AR. It was long, bumpy, and hot. Southern heat and humidity at its finest!
All in all it wasn't that bad, until we pulled up to a red light. And the bus shut off.
"Oh shit."
"What?"
"Oh shit." Tries turning key
"Uh oh."
"The bus just died. Uhhhh, I literally don't even know what to do right now."
Only three hours from home and our trip came to a dead stop in the lovely town of Greenwood, MS. We became a little panicked. I called Zack's parents who thankfully weren't too far ahead of us. Zack called the nearest towing company. Also, an FYI to others, the hazard lights on a bus are not in the most obvious place.
While waiting on the tow truck, Zack and his dad tried to figure out what was wrong. Initially we thought it might have overheated because it was so hot.
It appears that the main power line that runs from the engine in the back to the front got cut. Something that had definitely been happening over a long period or time and a possible cause to the sporadic speedometer controls. We are waiting to hear a report from the mechanic but we are hoping that is all that is wrong.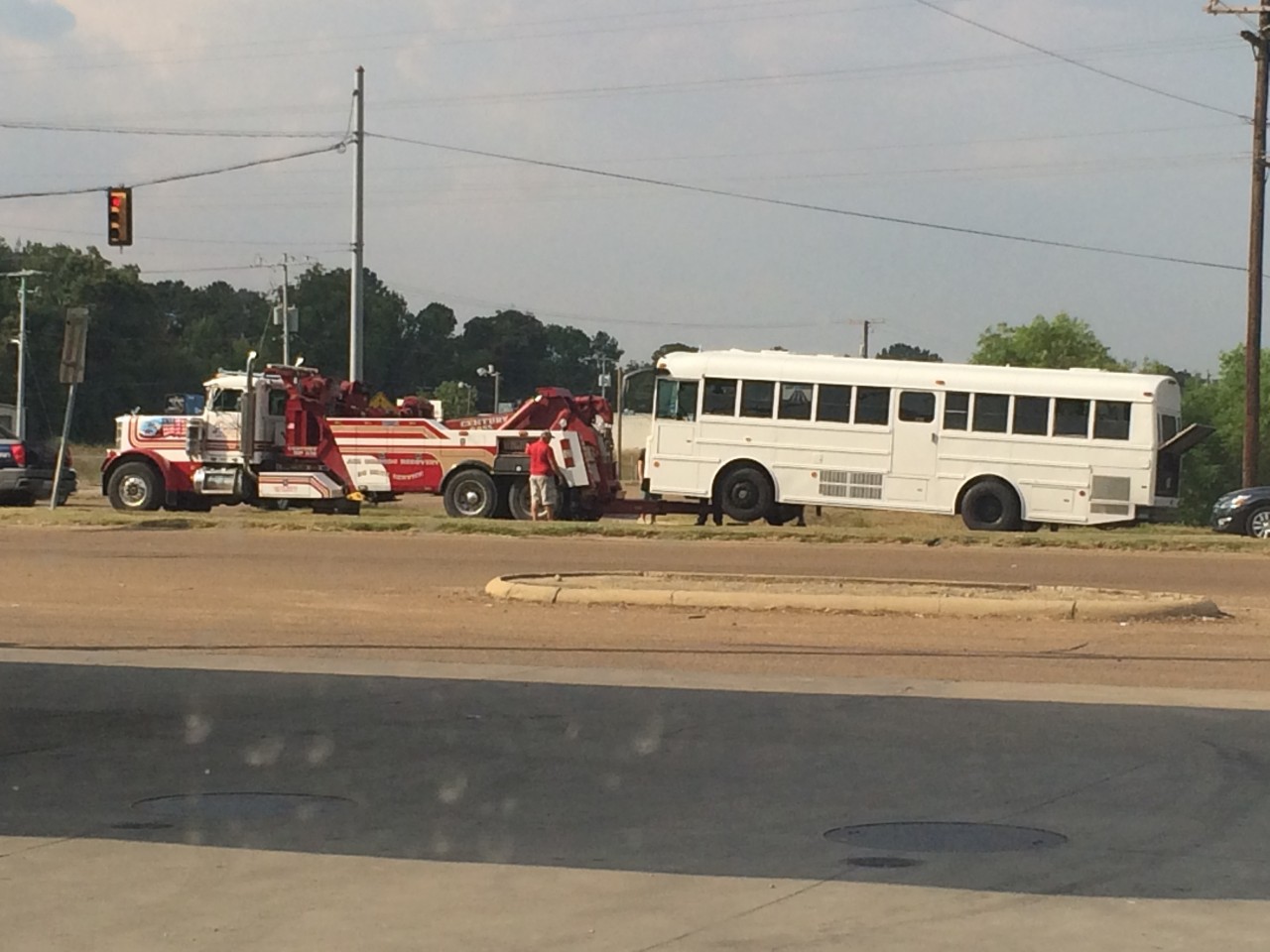 Needless to say, we left the bus at a shop and hopped into the truck with Zack's parents. We were a little bummed to not have the bus back to Conway and to start working on it. Although, Lola seemed pretty happy to be riding in an air conditioned vehicle for the duration of the trip. Hopefully it will be ready by the weekend and we can make it all the way home this time. Fingers crossed.
Shoutout to the awesome and so very nice Greenwood Police Department and Parker Wrecker Service for their help. (http://www.parkerwrecker.com)
Sorry for the crappy iPhone photos. They were taken from inside the truck, where there was air conditioning.