It has been a lot harder than we thought to find and stay in warm weather. While still in Arkansas, we were looking forward to going to the Southwest, a popular place for those looking for a milder winter. Don't get me wrong, there have been some nice days and I'm sure it is a lot better than Washington. But it has been quite chilly and verrry windy. While looking for our next place to go after Quartzsite, we were trying to find warmth. The only places we found were Mexico and Southern Texas. Not wanting to have a long drive and needing to be in Phoenix the next week, we settled on Saddle Mountain in Arizona. It was only an hour drive away and the climate was near the same as we had been staying in. Win. Win?
The short drive from Quartzsite to Tonopah was nice and we caravanned out there with some new friends we made at Skooliepalooza.
Sarah and John aren't as trashy as they seem. It's just hard to find places to recycle on the road.
We found ourselves a nice spot in the mountain for a few days. There is a trail to the top of Saddle Mountain but it seemed very arduous and we never got to it while we were there. We did wander around a bit and climbed some smaller peaks.
Saddle Mountain on the right. Sarah and I climbed some peaks on the left. Lola in her element.
Organ Pipe Cactus National Monument is only an hour away, so we made the trek down there for an afternoon. We did the arches trail and then Zack was the only one to brave off the path and actually climb up to the arches. I guess Zack didn't edit his pictures from Organ Pipe so there is no photo evidence. As far as I'm concerned, it never happened.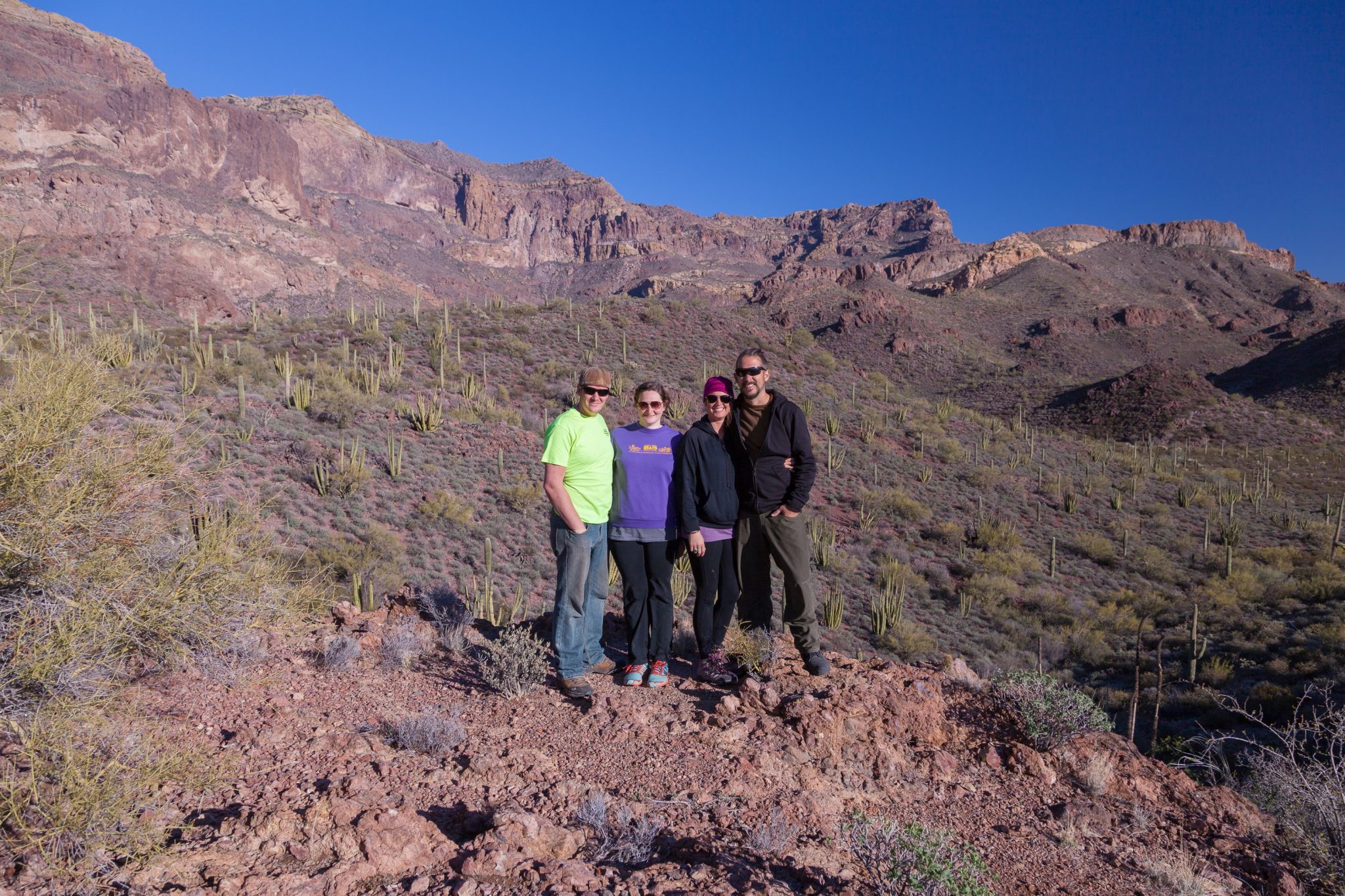 However, there is photo evidence that we do have friends!
After a few days at Saddle Mountain, we parted ways with Sarah and John and headed to White Tank regional park for a week. Zack had ordered some new bus batteries in Phoenix that we needed to pick up. A week of hookups at White Tank Regional Park sounded pretty nice and it was close proximity to where our batteries were being delivered.
Here is the story for those who haven't heard on why we needed new bus batteries after only a few months. While Stormy was still under construction, Zack went into the bus one day and immediately smelled an overwhelming sulfur smell. Not Good. He went over to the batteries and lifted up the couch where they sit and it was super hot in there and the batteries were swollen and rippled on top. Also, not good.
After turning everything off and shedding a tear..or two, we did some research into what went wrong. Here is my interpretation of what happened, sans Zack feeding the explanation to me. There are at least two different types of batteries. The kind that are supposed to be boiled and the kind that are not. We have the kind that are not supposed to be boiled. Something was set wrong on our inverter, so when Zack walked into the bus, the inverter was in the midst of trying to boil the batteries.
We decided to keep the batteries because they were still holding a charge, but after being in a few days of cloudy weather on the road, we realized they just weren't going to cut it. We picked up the new batteries and Zack got them installed. We debated getting a different inverter but because of money, we decided to keep the same one. To prevent this in the future, whenever we plug in, we reset the inverter. Occasionally, if we are boon-docking, we turn the inverter off at night when we don't really need it and then it gets reset in the morning. Zack also installed a temperature monitor in our battery housing unit. If it gets too hot in there, everything will shut off. Hopefully we now have ourselves covered.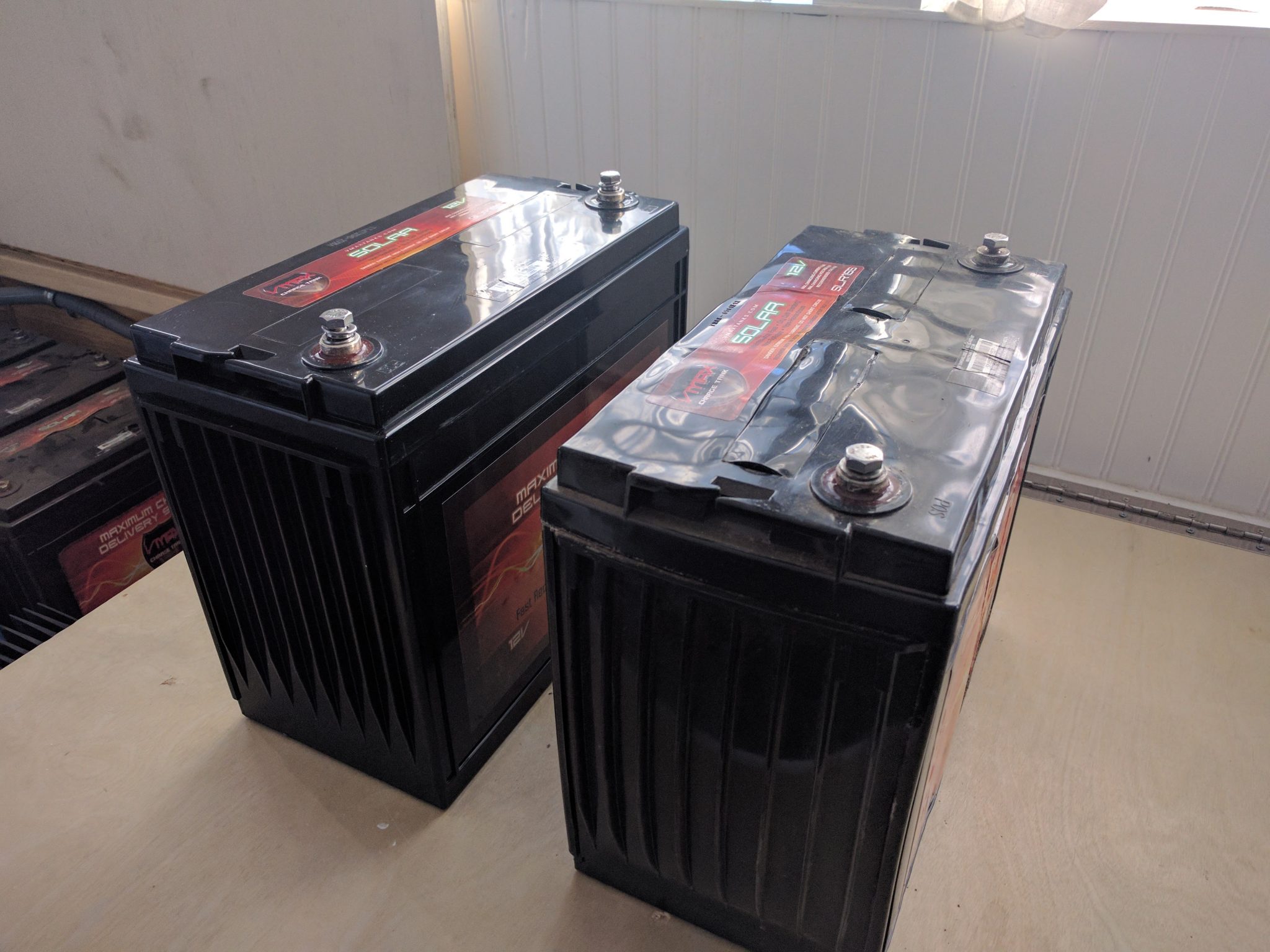 Hmmm, I betcha can't guess the old battery from the new
White Tank was a really nice and clean park. They offer a lot of hikes within the park and have a library within walking distance just outside the gates. Lola and I explored the Waterfall Trail since it had rained a lot the previous night.
The Waterfall in all its glory
It was no Arkansas waterfall, but it was a nice change in scenery from just the mountains and cactus. But Lola can't run around at State Parks like she loves to, and we were becoming restless there, so after a week we hit the road.
One of the easier trails in White Tank
Tonight we are boon-docking near Kaiser Hot Springs. We took a little off-roading adventure to find it and while the spring was meh, the surrounding area was pretty cool.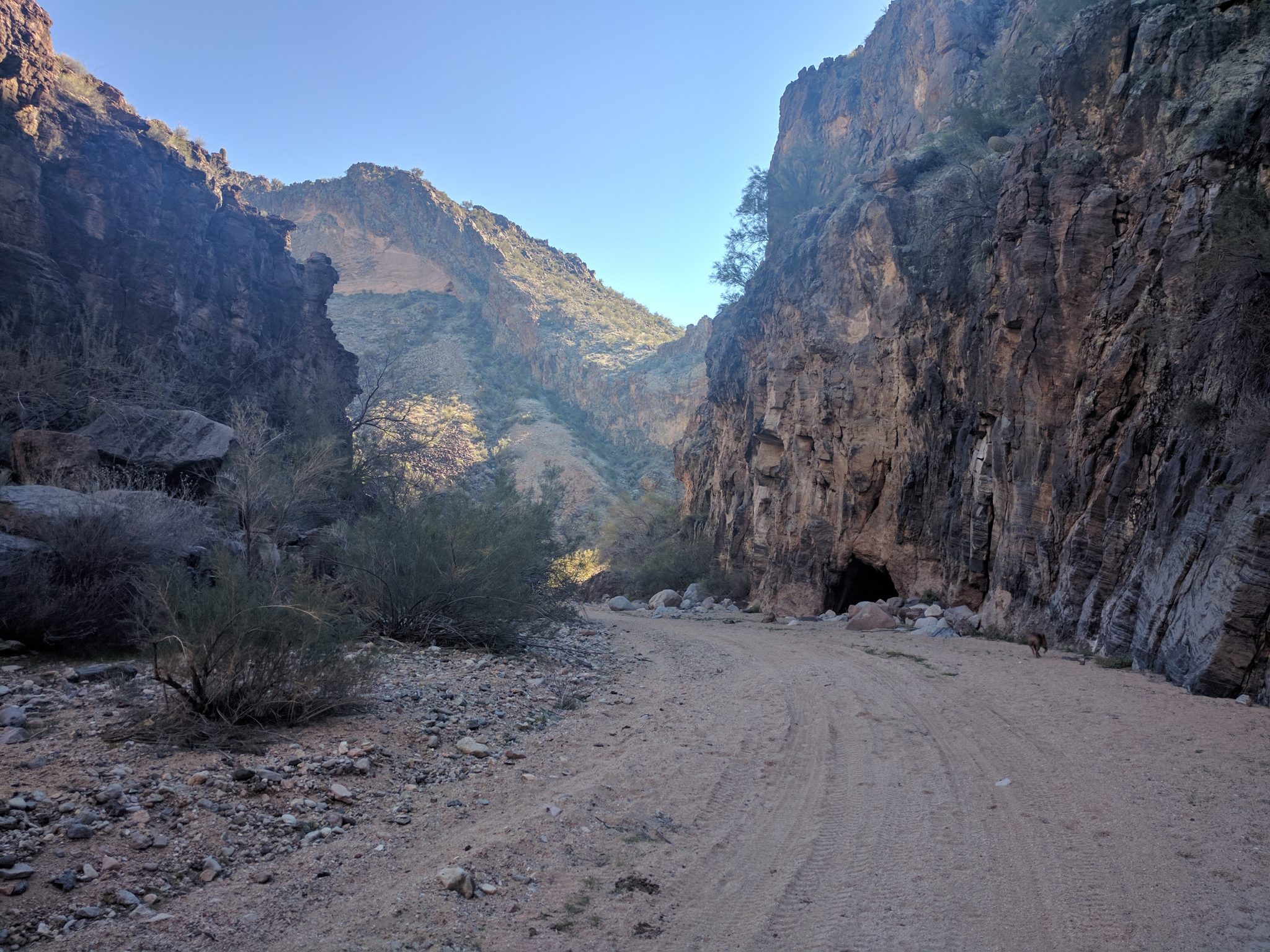 On our way to the hot spring
This week is looking up for higher temps and we are excited to go meet up with John and Sarah again, along with some more of our Skooliepalooza friends.